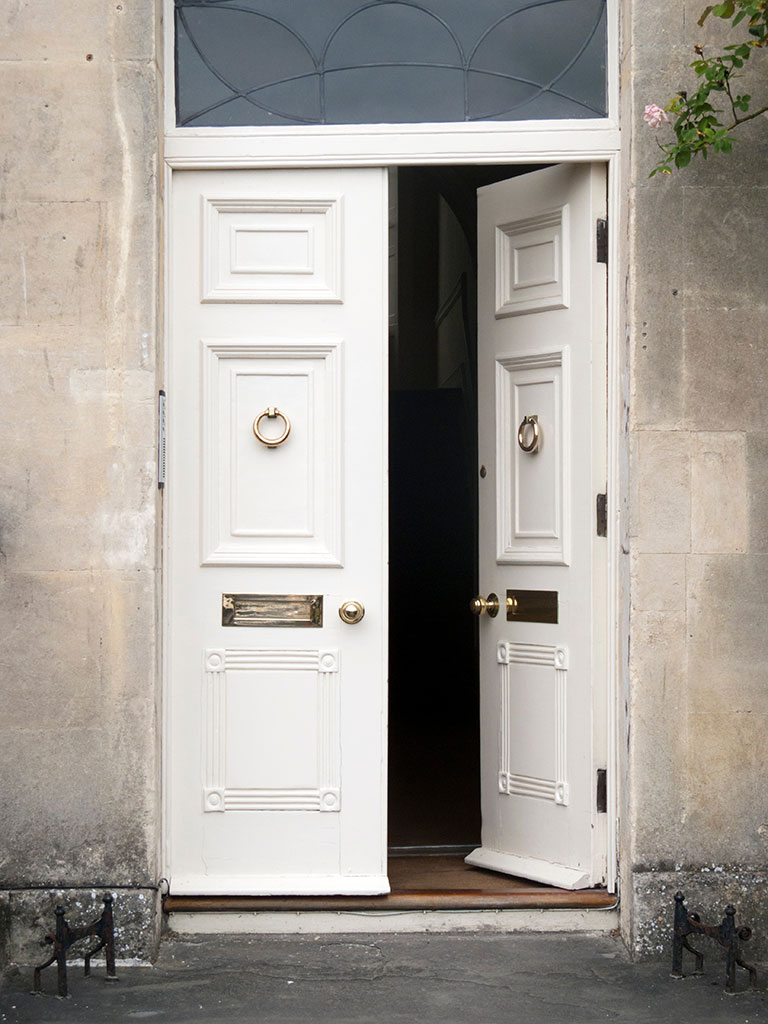 Whether you want an authentic period look or seek a more modern salvage-chic style, fitting reclaimed doors can totally transform the look and feel of your home, says Ellie Tennant
Buying a reclaimed door can be a bit overwhelming. Confronted with a room full of doors – all in varying conditions, colours, sizes and styles – it's easy to feel out of your depth. It's certainly not the 'easy' option, but salvaged doors can bring such a heavy dose of authenticity, character and charm to your home, it's well worth the extra effort required to source them. So, where to start?
'Measuring up accurately in the first place is essential,' says Eddy Charlton, dealer at Holyrood Reclamation, Edinburgh. 'We get customers who come in looking for a door but haven't taken any measurements, so there's not really a lot we can do to help them!'
Once you've measured the height and width of your existing door (assuming it is a good fit for the frame), repeat this from the other side to ensure you've taken an accurate measurement. Next, measure the depth of the door and also the depth of the doorframe (sometimes the door doesn't fill the frame completely). Bear in mind that most older homes were built when imperial units were in use and so most reclamation yards still sell doors in feet and inches. 'Doors that are slightly too big can sometimes be trimmed,' says Eddy. 'It's always easier to reduce the height, rather than the width, as it's just one cut.'
Get the Measure
'You shouldn't take too much off a door but it's a common mistake,' warns Dave Smith, director of Authentic Reclamation. 'If you need a panelled door to be 32 inches wide, but the door you've found is 34 inches wide, so you chop an inch off each side, it can unbalance it.'
This is because the mullion (the central vertical piece between the four panels) will be wider than the latch stile and the hinge stile (the two vertical pieces at the edges of the door that get trimmed to reduce the width). 'Doors need to be trimmed at the frame, on-site, by a carpenter, not at the place you're buying the door from,' advises Dave. 'Door frames are all slightly different and are often uneven in older properties.'
When buying a salvaged door, Dave says it's important to check the door hasn't already been cut down before: 'If it's been cut down once or twice before in the past and you try to cut it down a third time, it starts to look wrong.'
'Make a note of which way you need the door to be hinged,' he adds. 'It sounds obvious, but it's easy to miss and it makes life much simpler if your chosen reclaimed door is hinged the right way for your door frame.'
If you are extending your home and want to fit a reclaimed door in the new part of the house, check whether you can actually use a salvaged door or not before you start hunting for one. If you're converting your loft, you'll probably need to fit new fire safety doors to meet current building regulations, for example. In other extensions, it should be permissible to use older doors, but check with your local building regulations officer before fitting them. 'When extending or building, people often put the door frames in before they find their doors,' says Dave. 'My advice is to buy your reclaimed doors before you put the frames in – then you get a much wider choice of doors. A lot of people get that wrong.'
Internal Doors
When it comes to internal doors, most dealers report that stripped pine four-panel Edwardian or Victorian doors are their best-sellers. 'We sell them from £100 each,' says Eddy Charlton, dealer at Holyrood Reclamation, Edinburgh, 'but different types of doors are popular in different areas, depending on the style of building there. For example, in the Georgian 'New Town' area of Edinburgh, six-panel doors are always highly sought-after, whereas out in the suburbs, people mostly want 1930s Douglas Fir doors.'
Always buy from a reputable dealer and look out for warping, which often happens when doors have been stored outside or somewhere damp and soaked up moisture. 'Look at the tendon and mortises on the tops and the bottoms,' advises Dave Smith, director of Authentic Reclamation. 'If there's a crack where the crossbar joins the vertical bar, it probably means it's been outside and gotten wet, then dried and warped so the pegs come out of the joints – avoid those doors like the plague.'
Sometimes damaged or split panels will have been replaced with fibreboard panels or fire-proof board. 'Knock the panels,' says Eddy. 'If it sounds like wood, you're doing well.'
Modern doors have a standard size – H78 inches x W30 inches – but older models were made in many sizes, and would vary from house to house. 'Up in the attics in the servants' quarters were poor quality doors, the main family living areas had the best. In the kitchen area, there were poor doors again,' explains Dave, who has beautiful oak Art Nouveau internal doors in his own home.
Buying salvaged internal doors can make financial sense as well as being a style-savvy decision. 'In the reclaim business, most salvaged stuff is more expensive than new, but the thing about doors is you get value for money,' agrees Dave.
'I took 50 pairs of fantastic doors out of a house in Knightsbridge which have brass instead of lead in the glazing and stunning ebonised wood and brass handles. They're £950 a pair. If you commissioned somebody to make similar doors new, they'd cost £2,500-£3,000.'
Some reclaimed doors are made of beautiful but endangered woods such as mahogany, which simply aren't available to manufacturers today.
To Consider
Don't take your doors off until you have got replacements ready to fit.
If you want more light in a space, consider fitting a vintage part-glazed door. You can increase the privacy level for a bathroom or bedroom by covering the original glass with window film.
Always get a professional carpenter to fit internal doors, unless you are a real DIY expert. Hinges need to be sunk into door frames, not simply screwed to the surface of the wood and doors will probably need careful trimming. A badly-hung door can cause problems for years to come.
Suppliers
Holyrood Architectural Salvage, holyroodsalvage.com,0131 661 9305. For a great selection of four-panel, six-panel and other internal doors, including rare etched glass 'Lavatory' doors.
Authentic Reclamation, authentic-reclamation.co.uk, 01580 201258. For a huge array of internal doors, including sets of matching doors.
Burgess Reclamation, burgessreclamation.co.uk, 01869 346347. For salvaged and repro traditional internal doors.
External Doors
First impressions count, so if your front door is an ugly modern design that doesn't blend in with your home, it might be time to replace it for a reclaimed one that oozes character and authenticity.
If you find a salvaged front door you like, but it's caked in layers of old paint, a good option is to have it professionally 'dipped' in acid, then washed down, to strip it back to the bare wood. Be aware that the dipping process causes the door to expand temporarily and until it's dried out, it will be slightly larger than usual and won't be ready to fit until it's completely dry and back to normal size.
Many reclaimed front doors have original glass in them, which can be reinforced for added security and insulation with a layer of toughened safety glass (fitted on the exterior side) that meets British Standard 6206. Glass of this type will have a kite mark and 'BS 6206' etched on it.
If you find a door with a stained-glass panel you love, but it's damaged, seek the expertise of a specialist glass restorer to bring it back to its former glory. Or for a door that no longer has its original glass, or the glass is damaged beyond repair, you can opt to have vintage-style etched glass fitted. Source a sheet of original decorative glass from the era, or commission a glass artist to make you a stained-glass panel. You can take photos of stained-glass panels you like to help the artist, or find inspiration online, but it's a good idea to take a rubbing (with permission!) of the glass panel on a similar door from the same era that you like the look of, too.
For the back of your house, reclaimed timber-framed French doors or cottage-style 'brace and ledge' doors are good choices.
To Consider
If you're painting a front door, sand and prime it first. Cover glass panes with paper and masking tape to ensure no paint gets on the glass, but you can remove it gently with nail varnish remover and cotton buds if it does.
Older doors don't tend to be very well-insulated; fit a draught excluder strip to the bottom to make your hallway feel warmer.
Suppliers
Art With Glass, artwithglass.co.uk, 020 8771 6845. For stained glass panel restoration, reproduction and design. Expert glass restorer Vince Reid can also source antique glass for doors.
UK Architectural Heritage, uk-heritage.co.uk, 0845 644 905. For a good range of stripped front doors, ready to be re-glazed and painted.
The Stained Glass Doors Company, thestainedglassdoorscompany.com, 01730 828444.For beautiful doors with gorgeous glass panels.
Statement Doors
Sliding barn-style doors are a great solution if space is tight, for example, between a bedroom and an en suite bathroom. Without a door swing pathway, these doors also make great room dividers. You can buy a kit and hang any reclaimed door yourself, or commission a specialist firm to build you a door from reclaimed wood and fit the sliding system, too.
Indian double doors are flooding into reclamation yards at the moment. Often made of intricately hand-carved rosewood or teak, these chic doors have gorgeous distressed patinas and can bring a touch of Eastern elegance to an interior. Use them between rooms or for a statement storage cupboard. Jali-style designs have fretwork, mesh or metal bars, while others are solid, panelled designs – sometimes complete with original metal loop handles.
If you want or need a new door, but prefer a design with character and history, you could consider commissioning a door made from salvaged wood. Carpenters can create a modern-style door using reclaimed timbers, which is a great idea if you have a large doorframe and want a really imposing design with interesting features such as nail holes, cracks and weathered grain.
To Consider
Looking for inspiration? You can see Indian doors and door frames in the greenhouse restaurant at Petersham Nurseries in Richmond, where they are used as gateways to divide the interior.
If you commission a bespoke door made of salvaged wood, look out for vintage door furniture – such as ancient, chunky locks and keys – to complete the look.
Suppliers
Doormate, doormate.co.uk, 029 2166 0393. For sliding barn door hardware kits and bespoke single or double barn doors in reclaimed timber.
Indigo Asian Antiques and Interiors, indigoantiques.com, 01672 564722. For stunning Indian 'jali' doors.
Brandler London, brandler.london, 020 36458202. For bespoke doors made using reclaimed materials.
Door Furniture
Period door furniture and ironmongery is essential for an authentic look. Cheap or badly-chosen door furniture can make even a beautiful old door look tatty, while elegant, carefully-considered door furniture can elevate the feel of your whole interior.
If you're swapping all your internal doors for reclaimed ones, you might want a set of matching door knobs and/or finger plates, but be aware that matching sets are always in high demand and fetch much higher prices than single items. Or, gradually collect the door furniture over time, seeking out similar pieces that will look good together. You could choose matching door knobs for downstairs rooms and a different style for upstairs. Vintage-style repros aren't the same as the real deal, but they do mean you can have an unlimited number of matching items.
If you're prepared to rummage around in dusty boxes, you can often pick up inexpensive door furniture at flea markets, but it's sometimes unrestored, which can be a false economy if the piece you buy needs a lot of work in order to be useable. You can find vintage rim-locks fairly easily, too, and escutcheons to cover keyholes. Fingerplates – in ceramic or brass – complete the period look on internal, panelled doors.
Front door furniture is easier to find, because you only need one of each item and nothing has to match exactly. Be aware that vintage letter flaps are often very small (around L14.5cm) so lots of modern-day post won't fit through them!
To Consider
If your reclaimed door has a misshapen or unsightly old keyhole, find a beautiful, large vintage escutcheon to cover it.
'If you have a new door but want to give it a vintage look, add antique door furniture,' advises Eddy Charlton. 'It's easy to do and can have a big impact.'
Suppliers
WMC Antiques, wmcantiques.co.uk, 01664 851488. For a massive selection of door furniture, from locks and latches to knobs and knockers.
Antique Door Knockers, antiquedoorknockers.co.uk, 01948 840666. For elegant vintage door knockers in every conceivable shape and style.
Vintage Door Knobs, vintagedoorknobs.co.uk, 0800 294 8603. For authentic-looking repro door furniture, based on original period designs.