Using tones, textures, layers and themes, Tamsyn Morgans and Alice Roberton create colour-inspired looks to set the mood for your space
Words and styling: Alice Roberton; Images and styling: Tamsyn Morgans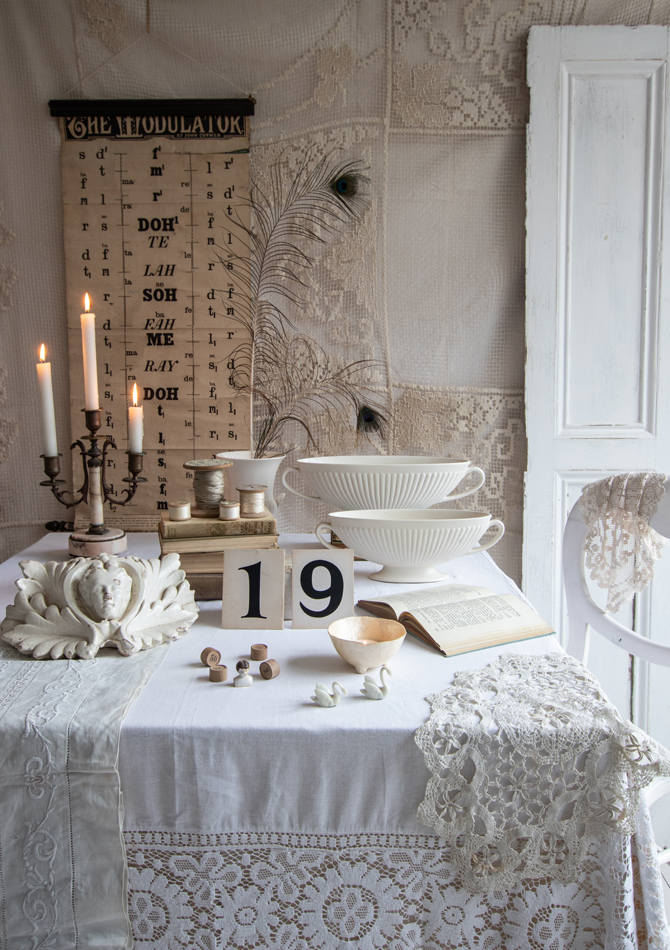 Shades of pale
Despite white's often cold appearance, a wonderful feeling of warmth can be created when you move away from the colour in all its brilliance and towards the tints and shades of timeworn objects, and even more so if you add textural layers and candlelight. The tones found in old papers, porcelain, lace, crochet and cotton are easy on the eye and evoke a feeling of calm, whilst textures add depth and steer white away from looking flat. Delicate lace expresses femininity and monochrome type adds masculinity – mix together and you've embodied the principles of yin and yang. Whatever you do with shades of white, they are guaranteed to lighten the mood, and indeed your interior space.
STYLING IDEAS Layer up with vintage lace, cotton and crochet in shades of vintage white, and add candlelight to create a feeling of warmth and calm.
SOURCING Find pared-back decorative items, lace and monochrome signage at brocantedecorative.com, honitonlace.com and pedlars.co.uk, or
shop the look at The Decorative Living Fair, 17–18 May, near Tunbridge Wells, Kent (decorativelivingfair.co.uk).
INSPIRATION Instagram #styleitlight

Bright future

With Living Coral emerging as Pantone Colour of the Year, brights are merrily skipping over the threshold and into our homes, livening up walls and furniture and influencing art as it goes. For many, it would be a bold step to paint a room in a shock of turquoise, yellow, hot pink or coral, so making a backdrop is a fantastic way of injecting some glorious technicolour into the home without too much commitment. With Miami art deco colours in mind, make your own backdrop using a roller to paint emulsion onto thick dust sheets or stretched canvas. When the mood takes you, hang the backdrop and add colourful accessories to transform your home into a sunny paradise.
STYLING IDEAS Let the 1950s, 60s and 70s collide with brightly painted mid-century furniture, bold pop art and kitsch plastic flowers set against your own handmade backdrop.
SOURCING Find retro fabrics, bold upcycled furniture and prints at rainbowvintagehome.co.uk, zoemurphy.com and Etsy, or shop the look at The Vintage Home Show, 24 May, Pudsey, Leeds (vintagehomeshow.co.uk).
INSPIRATION Instagram #colourmyhome
See more by subscribing here.