Living in a compact home? Even the smallest of spaces can be comfortable and practical if you use vintage and reclaimed finds wisely, says Ellie Tennant
Many of us – particularly citydwellers – find ourselves living in smaller spaces than we'd ideally choose, but rather than focusing on the limitations of small-space living, perhaps we should instead concentrate on the opportunities compact homes can offer. For in smaller rooms less is usually more. When there's no space for unwanted clutter, it's important to select furniture and decorative items that are easy to live with or that you really love, then let those carefully curated finds stand out.
Manufacturers of modern flat-pack furniture would have us believe that we need new designs in modern materials in order to maximise space in smaller homes, but look to the past for inspiration and you'll soon find ingenious storage solutions and compact pieces of furniture that are perfectly suited to small-space living and are often much more sturdy and stylish than their contemporary equivalents.
In order to make a small home feel airy and comfortable rather than claustrophobic and cluttered, it's essential to think creatively and make the most of every available inch where you can. From finding hidden space beneath a basin in a tiny bathroom to hanging antique folding chairs on the kitchen wall as a quirky vintage feature, the most comfortable and welcoming small-scale homes merge practicality with style. Small spaces can bring out the best in us, challenging us to edit our possessions, seek out beautiful but functional finds and solve storage problems. Plus, they're often cosy and comfortable thanks to their modest proportions. What's not to love?
The furniture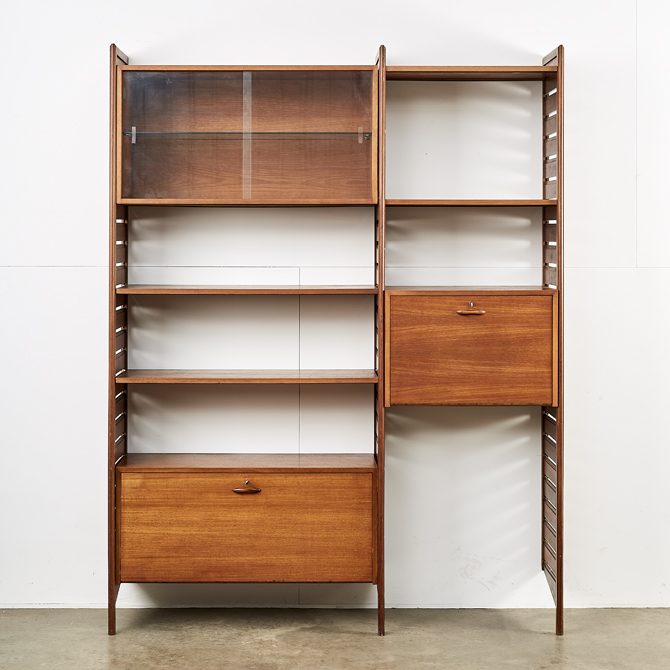 Look for petite vintage furniture with small dimensions – mid-century designs (by the likes of Ercol or G Plan) tend to be dainty and are therefore perfectly suited to compact homes. Tapered legs let you see the floor underneath your furniture, which creates the illusion of extra space, while curved silhouettes help items to blend into corners.
Mid-century component storage systems are also ideal for small-space living as they incorporate shelves, display cabinets and fold-down desks, and can be adapted to your changing needs thanks to moveable elements. Unfashionable drop-leaf tables should not be dismissed – their nifty folding mechanism means you have three options: a large dining table with both leaves up, a smaller half-table with one leaf up, or a narrow sideboard-style piece of furniture when both leaves are down.
Built-in furniture made of reclaimed wood is handy if space is tight. A window seat or banquette-style seat with internal storage compartments can let you squeeze a table into a tiny nook where there's not much floor space for chairs. In a bedroom, a bespoke deep headboard minimises clutter, provides a handy shelf and – if you fit reading lights to it – means you'll have no need for bedside tables.
To consider
Stackable stools such as vintage Tolix, designed for use in cafés, are a good choice for small kitchens, as they can be neatly stored in a cupboard or corner
when not in use, freeing up precious floor space.
Little vintage sewing machine or mangle tables make
great compact desks or dressing tables.
Sourcebook
Scaramanga, scaramangashop.co.uk, 01334 657642: for vintage folding tables from India, stackable tubular steel and plywood chairs, and nifty mid-century pieces such as 1970s Formica-topped drop-leaf tables.
Lovely & Co, lovelyandco.co.uk, 01273 473451: for a huge range of vintage furniture in all shapes and sizes, including a good selection of petite mid-century pieces.
Everything but the Dog, everythingbutthedog.eu, 0208 986 1525: for mid-century furniture at affordable prices including Scandi designs and Ercol pieces.
Don't forget to use the walls, too – folding chairs can
look chic hung on rustic vintage hooks, while coat
racks and peg rails can provide useful storage
Storage solutions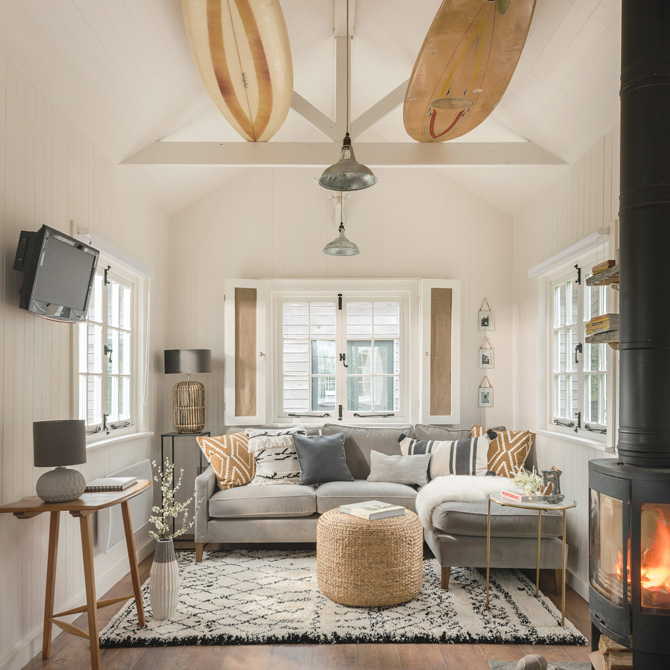 The key to successfully styling any small home is to incorporate useful but good-looking storage and find hidden space that's easy to access. For the living room, look out for old luggage trunks or blanket boxes which make great coffee tables and double up as useful containers for clutter. If space permits, a stack of old suitcases can provide a huge amount of storage space too, and makes for an interesting feature. Find extra space low down – slide bushel boxes (vegetable and fruit crates) on castors into alcoves or tuck pull-out wooden trays under your sofa. Don't forget to use the walls, too – folding chairs can look chic hung on rustic vintage hooks, while old coat racks and peg rails can provide useful extra storage space, especially if you hang baskets from them.
Many older items can cleverly lend themselves to new uses: wall-mounted vintage French bottle-drying racks make handy kitchen additions for mugs and utensils, while reclaimed industrial pigeonhole cabinets are useful for storing a host of small items, from DVDs in the living room to DIY kit in the garage or gloves and scarves in the hallway. Old drawers can be lined with paper or painted, and fitted to a wall to be used as cubbyholes.
In a compact kitchen, open shelving on the walls always looks much less bulky than built-in above-counter units. Source vintage shelf supports in cast iron and use reclaimed scaffolding boards for sturdy but stylish shelves. Fit slimline appliances to maximise cupboard storage space, and choose white walls and pale tiles to reflect light and create an open, airy feeling.
To consider
For an uncluttered look, conceal storage boxes under a desk or
worktop behind curtains made from vintage fabric.
Fit cup hooks underneath kitchen shelves so you can hang
mugs and small jugs, freeing up space elsewhere.
Sourcebook
Finishing touches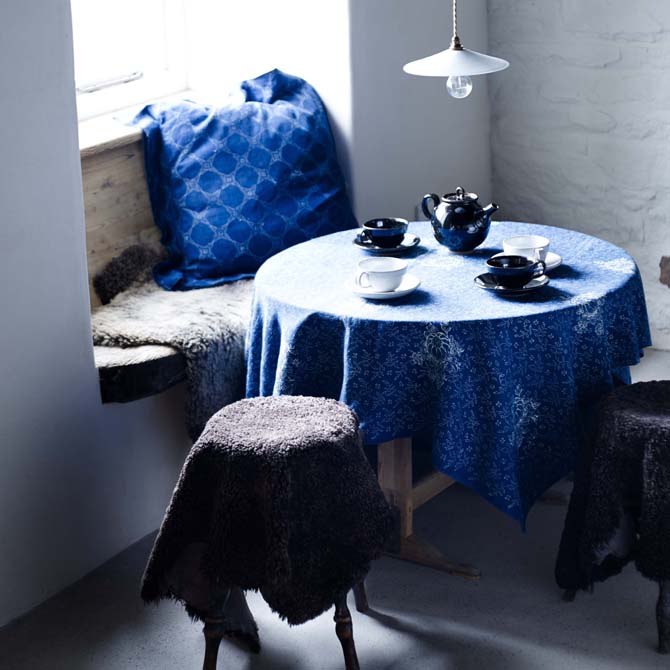 When space is limited and a traditional door would be a tight squeeze, it can help to fit a sliding reclaimed door on barn hinges instead, or even just hang a thick curtain on a pole across a doorway. Generally speaking, the more wall surface you can see, the bigger a room looks, so limit window dressings wherever possible and opt for simple, barely there solutions where privacy or darkness is a must. Always fit one large curtain instead of two smaller ones so you can slide it to one side when not in use, meaning more wall is visible, creating the illusion of space. Or, ideally, ditch curtains altogether and go for a fuss-free blind.
Mirrors are essential in smaller rooms, to bounce light into dark areas and visually extend the existing space. Try leaning an over-sized antique mirror against the wall to instantly 'open up' a cramped corner or hang a cluster of vintage mirrors you've collected on a wall instead of artwork. Pattern can be used in small spaces, but introduce it sparingly, in small doses, so as not to create a cluttered, 'busy' look. It's true that white and pale colours can 'brighten up' small homes, which can be prone to feeling cramped and dark, but very dark colours can also work well, as they create a feeling of infinity – akin to gazing at the night sky.
To consider
Don't overwhelm a small home with too many different colours. Stick to
a limited palette and repeat the same colours in all your rooms
for a cohesive feel and to visually extend your space.
If you're changing the floors in your home, consider using the same
flooring throughout, which can create an airy feeling.
Sourcebook
Rough Old Glass, rougholdglass.co.uk, 0345 548 8586:
for restored original English and continental antique mirrors.
Divinely Vintage, divinelyvintage.co.uk, 07976 94569:
for pre-loved curtains in a huge range of styles and sizes.
Made by the Forge, madebytheforge.co.uk, 01473 487118:
for hand-forged traditional curtain poles.