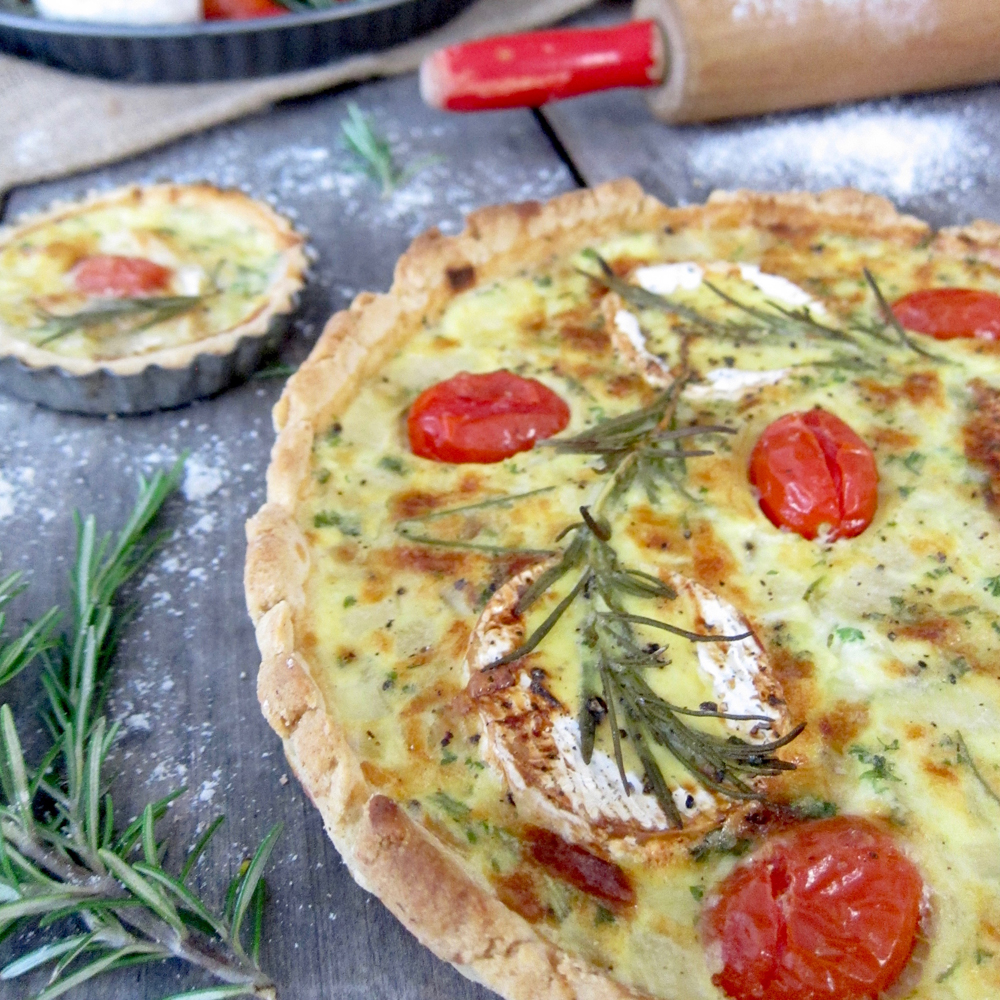 Goat's cheese and rosemary quiche served on a vintage board
Once you understand the basics of quiche making, the options for fillings and styles are endless. I've always found the creativity involved in putting together a quiche to be a great pleasure, choosing my ingredients to suit mood, season or the taste of my guests. The filling in this recipe includes my core quiche ingredients, with added goat's cheese, mini plum tomatoes – which, once cooked, are the most delicious thing to bite into as they 'pop' in the mouth – and rosemary. I never concern myself with how 'good' a quiche will look, instead I relish the homemade aesthetic of each one.
Shortcrust pastry:
250g plain flour
pinch of salt
125g cold butter, diced
3 tablespoons cold water
Quiche filling:
butter, for frying
1 medium onion, finely chopped
2 medium organic eggs
½ teaspoon Dijon mustard
1 tablespoon chopped parsley
3 sprigs of rosemary (or to taste)
pinch of salt and freshly ground black pepper
50g Cheddar cheese, grated
150ml milk
1 round of goat's cheese, sliced
1 vine of mini plum tomatoes
Preheat the oven to 200C/fan 180C/gas 6.
Place the flour in a bowl with the salt and diced butter. Shake the bowl to give the butter a flour coating then, using your fingertips, gently rub the butter into the flour until the mixture resembles breadcrumbs. Add the water, one tablespoon at a time, and mix to a firm dough. Work the dough into a ball, taking care to handle it gently so the pastry stays light – do not knead.
Place the ball onto a well-floured surface and roll out to fit a deep, 24cm flan dish, pie or cake tin. Carefully place the pastry in the dish, pinching the sides gently. Break off or cut any overhanging pastry, then bake blind in the preheated oven for 10–15 minutes. Remove and set aside.
Melt a knob of butter and gently fry the onion. Once translucent, set aside.
Put the eggs in a bowl or jug and gently whisk, then mix in the mustard, parsley, one sprig of the rosemary (pulled or chopped), seasoning, Cheddar cheese and milk. Add the cooked onion and stir.
Pour the mixture into the pastry case, pop in the whole tomatoes so they are semi-submerged, then top with the slices of goat's cheese and the remaining sprigs of rosemary. Place on the middle shelf of the oven and bake for 30 minutes, or until golden.