Grand plans, a low budget, some clever decorative ideas, and a pot of gold have seen interior designer and artist Lara Bezzina turn a tired cottage into a home glowing with individuality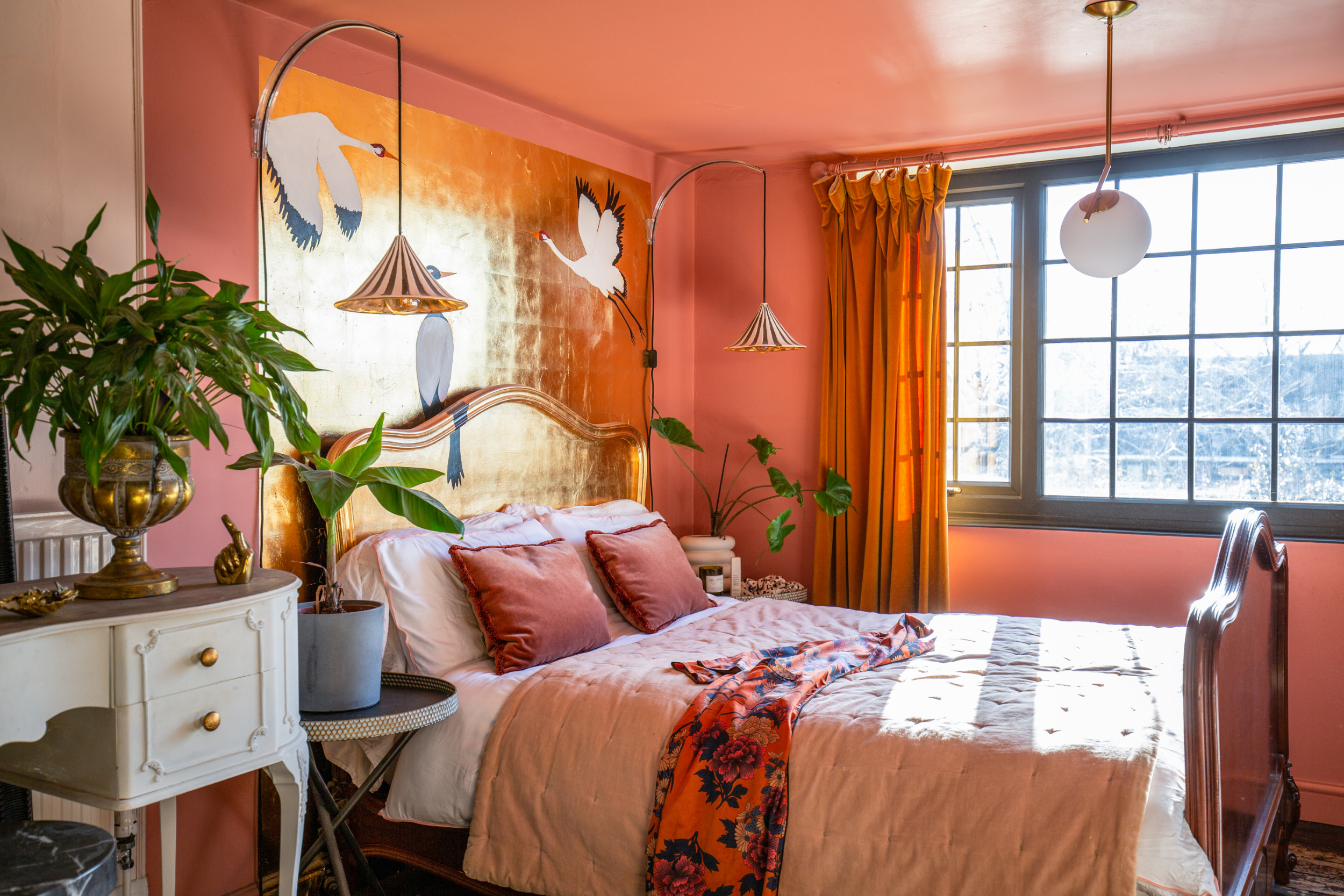 End of a terrace and tucked away down a lane in Moulton, Northamptonshire, is the Victorian former alehouse home of Lara Bezzina and her husband Stuart Bruce, a musician and manager with the local authority. Having already renovated three properties, this fourth project – started in 2014 – presented the couple with a dark, damp, 1970s time warp begging for some tender love and care. 'It needed a new roof, damp proofing and some structural work, all of which we had to get done to keep our mortgage company happy,' explains Lara.
It was important to find a house they felt had some character to work with; crucially, it needed to be somewhere Lara could unleash her insatiable creativity and flair for interior design. 'After the major work, we renovated and decorated the place room by room – with a near-to-nothing budget we've done most of this ourselves.' The couple exposed original build elements like the brick walling in the sitting room and a small lath and plaster wall in the upstairs hallway, and discovered that several interior doors and a small bedroom fireplace had been boarded up – these they uncovered. 'Embracing these features has added great character to the place without huge cost,' says Lara.
Image credit: Tamsyn Morgans. Styling: Alice Roberton
Add a sense of drama and luxury to your interior by using metallics, and if it's warmth you're after then gold or copper are just the ticket.
Although interested in art from a young age, Lara's love of animals led her to completing a degree in animal welfare and management – a far cry from her work nowadays. 'I really struggled to find a direction after my degree and have finally come back to creativity,' she says. Earlier this year she completed a diploma with the Interior Design Institute before setting up her own business (larabezzina.co.uk), where she offers a service to help people achieve their dream interiors and resolve design dilemmas. 'It also features my gold-leaf artwork and murals, and a blog based around DIY and reimagining furniture,' Lara reveals. 'It's focused on things I'm really passionate about or have implemented in my own home.'
With plenty of experience under her belt Lara has a good deal of knowledge to share. Interior-wise, the house is a wonderful riot of contrasting colours and patterns and a great mix of old, new and upcycled furnishings and decorative pieces, all tied together with a homespun golden thread. 'I started using gold leaf in this house and my first attempt was a roll-top bath that I wanted to make look copper, as I couldn't afford the real thing,' Lara recalls. 'Following a lot of trial and error, I loved the result and was hooked! After this I couldn't stop seeing things that could be improved with a touch of gold.' Adding gold leaf to vases, lamps and other small objects – many picked up second-hand at the local reuse centre – Lara soon graduated to larger objects and spaces. 'As my journey with gold leaf continues, I have created murals, freestanding mural panels and mirrored gold artwork,' she says. 'The possibilities are endless.'
Read more in our November issue – Click here to buy
Words: Alice Roberton