A multifunctional wellbeing space where style and substance should be equally balanced, a beautiful bedroom offers a peaceful sanctuary
6 Bedroom Ideas
Dopamine dressing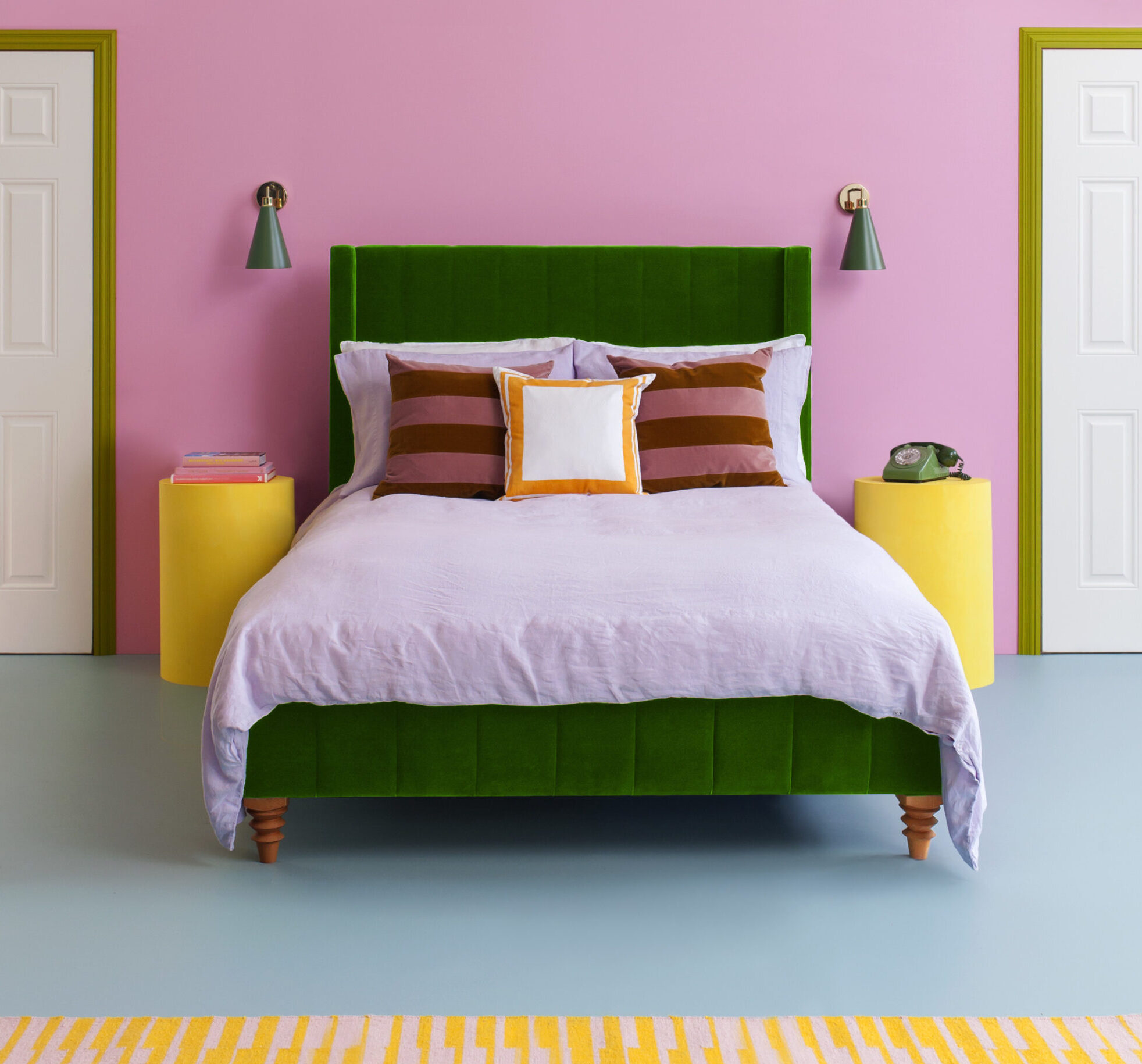 Try ice-cream shades and pops of neon for a contemporary look, or darker, richer colours for a more traditional comforting cocoon. Layering different shades of the same colour, or a carefully coordinated palette, will make it feel cohesive. Brights such as acid orange and yellow, pale and deeper berry colours (Pantone's colour of the year is Viva Magenta) and pastels are all hot right now, along with rich colours including emerald, fuchsia, sapphire, mauve and burgundy. Colours that might look a trifle tacky alone become cool and edgy when combined with darker, more sophisticated heritage hues – especially in surprising pairings that shouldn't work, yet somehow make magic together.
To dip your toe into colour drenching, play with a mood board of colour samples. Start with one bold piece such as a bright bedroom chair or headboard, then add layers of colourful bed linens, cushions and throws in different textures, and finish with a statement print or accessory, all of which can be more easily remixed and rematched than bigger commitments such as paint and paper.
---
Calm Neutrals
Bedrooms should be all about comfort, and rich textures evoke the same sense of luxury as rich colours. Mixing tactile natural textiles such as linen, wool, velvet and jute with textural materials including ceramic, wood and rattan, together with a touch of shimmer from glass and metallics, ensures a scheme anchored by beige will be anything but boring.
The key to ensuring neutrals don't look bland is to add in warmer natural materials – so if you have grey or white walls or bed linen, pair with furniture in a warm wood, for example. Avoid using the same shade of beige for everything. Layering darker and lighter neutrals including stronger natural shades of brown, terracotta, charcoal, moss green and navy, with sand, caramel, gold, bronze, dusky pink, rose gold and creamy white will still achieve the soothing neutral look, while creating the richness and depth you need for a self-indulgent space.
---
Granny Chic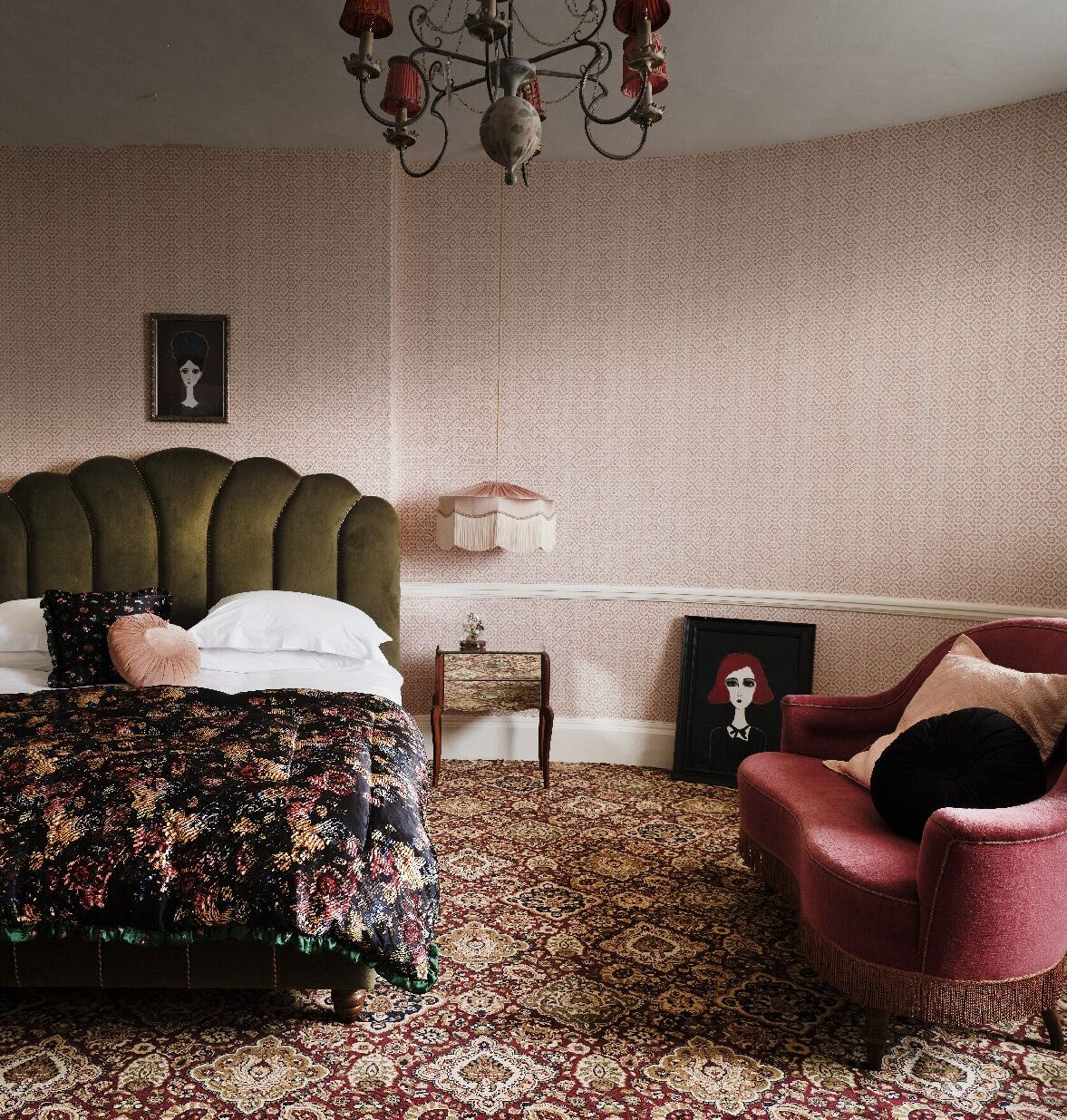 At the heart of granny chic is clever print mixing – or clashing – from patterned bed linens and wallpaper to rugs or carpets in traditional florals or prints. It's a muted, retro twist on maximalism, mixing and matching colours and patterns in a more restrained palette, combining contemporary with vintage, upcycled or charity-shop pieces for an eclectic look.
Make this 'fashionably unfashionable' style sing by keeping a colour thread running through the scheme, which will give even the most mismatched prints on walls, floors and textiles a harmonious look. Add a touch of boudoir luxury with a vintage silk floral-print eiderdown or quilt and some soft velvet upholstery – perhaps an occasional chair, chaise longue or headboard – in soft vintage shades such as gold-green or dusky pink.
---
New Romantic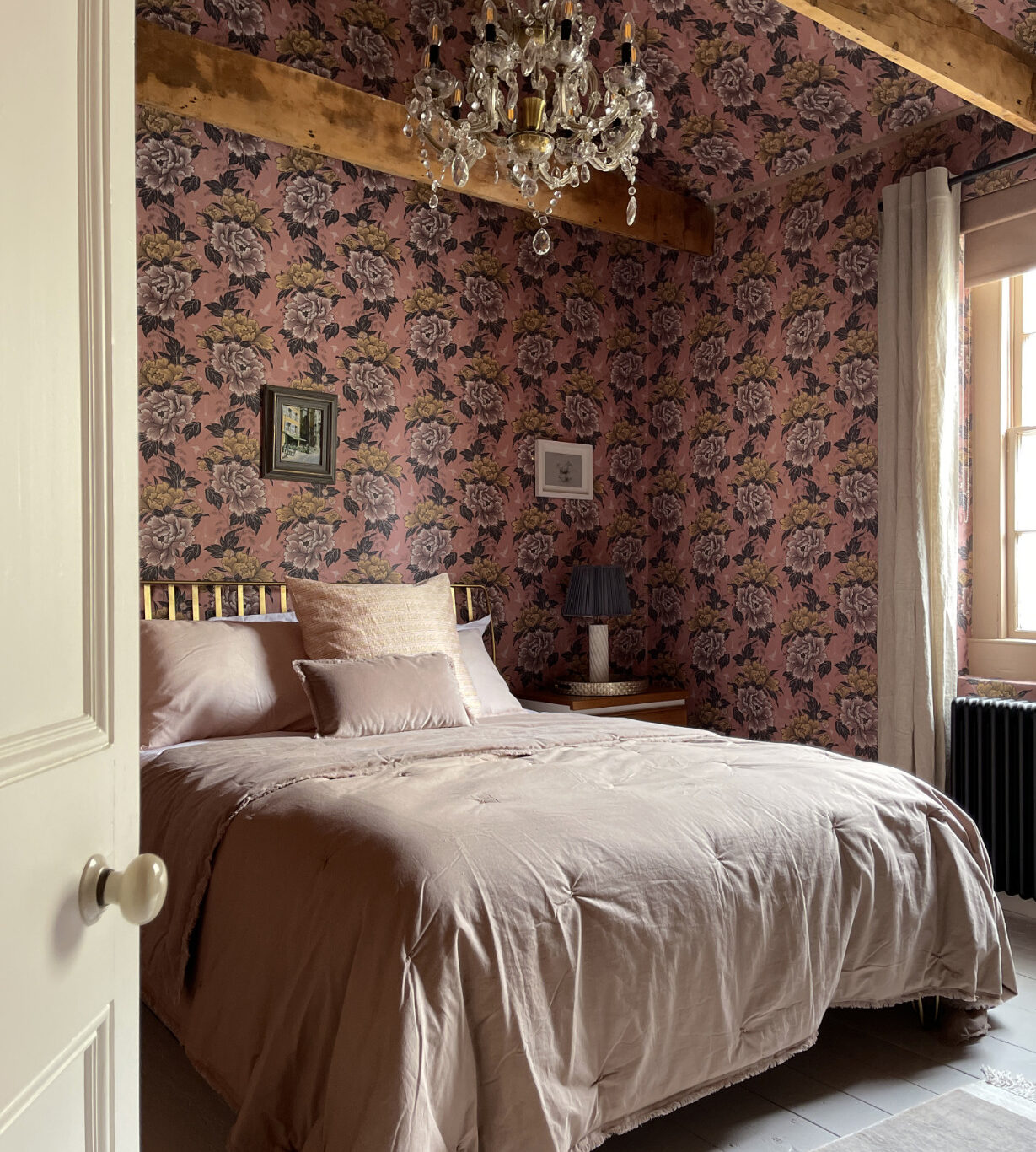 Don't be afraid to embrace the maximalist look with a feature wallpaper in a bold floral print or toile de Jouy, while a sparkling antique crystal chandelier and ornate gilt-framed mirror will add a touch of movie-star dressing room decadence.
For windows, drape in layers of romantic gauzy cotton for soft, diffused light, or try silk for a hint of sheen. On floors, traditional floorboards topped with deep, sink-into rugs add that luxurious feel, or invest in an extravagantly soft, wool carpet.
For a boudoir bedroom, the bed should be lavish – looked for curved, carved and opulent or sumptuously padded headboards, antique French-style or traditional wrought-iron bedsteads with decorative posts, or, if space allows, a four-poster framed with delicate drapes.
Finish with eclectic antique finds and subtle hints of sparkle – vintage lamps, antique prints, a velvet button-back cocktail chair, ornate candlesticks and delicate dark wood side tables.
---
Back To Black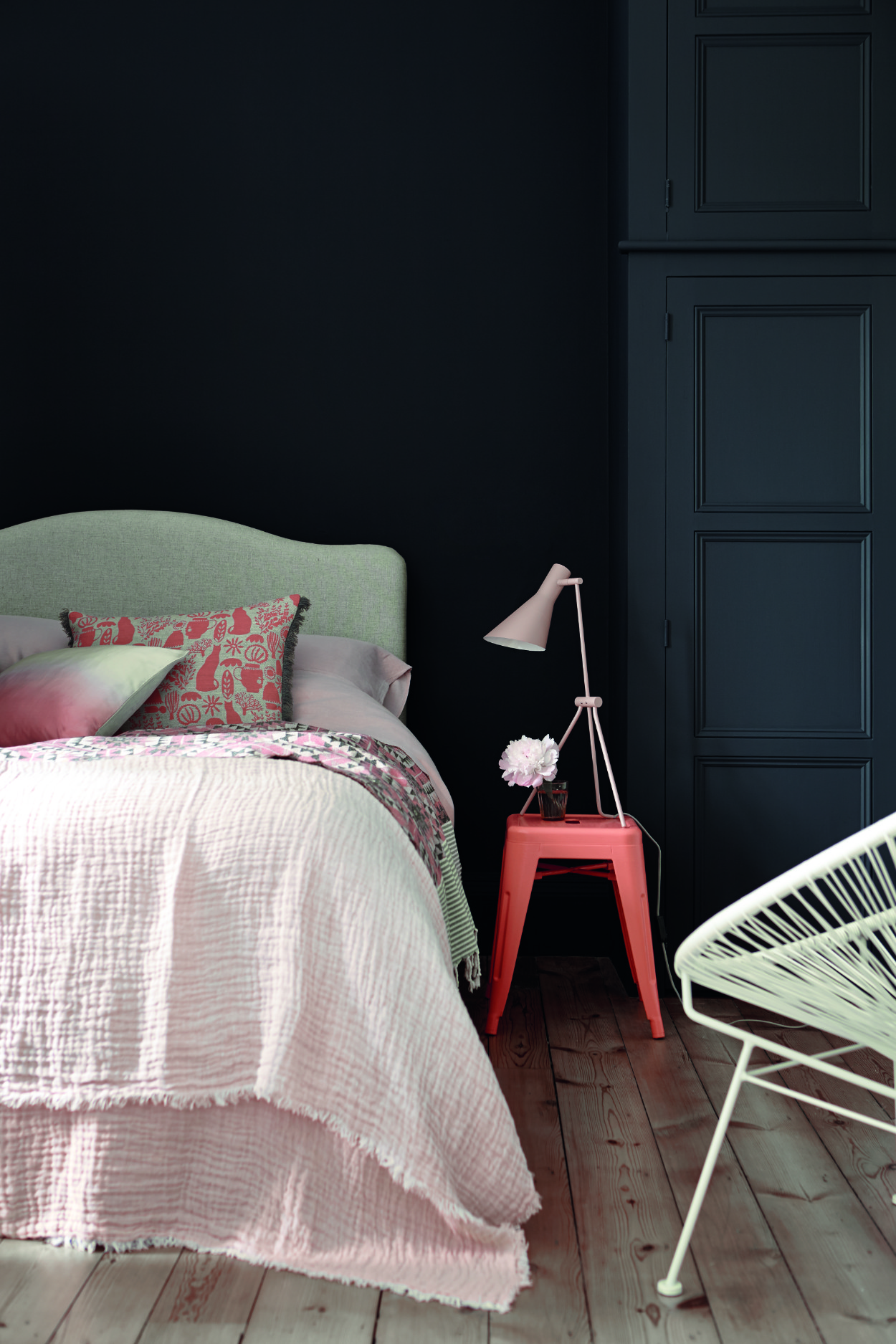 To avoid going oppressively dark, include pale or white counterpoints – keep ceilings light grey or white, and hang gauzy white curtains or crisp linen blinds. Floorings and furnishings are best kept simple too – try natural wood floorboards or a seagrass carpet with rustic pine or simple light oak furniture.
Balance the black by going for sumptuous levels of bedding, using matt and organic textures such as soft wool and airy cotton as a contrast. A little hint of glimmer from mirrors or lighting works well, but too much shimmer or ornate detailing may tip the scheme into gothic vampire territory, so add accessories with restraint!
There are many degrees of black too, so choose your wall paint carefully to get the warm or cool shade that suits your space and light, which could be cooler shades of charcoal or blue-black, or blacks with warmer red or brown tones. Black and white is a classic monochromatic pairing, and gold or metallic accents add a hotel-style luxe touch, but for a softer, more traditional look, use black walls as a canvas to show off soft-bright shades such as cantaloupe orange, raspberry pink or ochre, or to make accessories such as statement lighting or white-framed paintings stand out.
Skirting, door and window frames, and furniture upcycled in black paint paired with lighter walls, also make a big impact without going full-on dark, and provide a contemporary edge for pastels such as lavender, peach or mint, or statement-print wallpapers.
---
Mid-century Mood
How far you want to go with this look is up to you – opt for a complete retro homage with rattan pendant, sculptural chandelier or space-age vintage light fittings and original teak furniture, or incorporate a couple of mid-century pieces such as bedside tables or an Ercol chair for a pared-back Scandi look.
Low, wood-framed platform beds were hugely popular in this period, and still look chic today, or opt for a simple almost 'floating' bed on hairpin legs, while chunkier rattan beds and headboards have a relaxed boho vibe. This design style is defined by its use of natural materials, often with a predominance of wood – usually teak or lighter oak – along with cane, stone, ceramics and woven fabrics, and accessories such as jute rugs and macramé.
Geometric prints add interest – you could include wallpaper or look for a rug or prints inspired by shapes and colours of the era. The mid-century palette traditionally focuses on warm colours including terracotta, ochre, shades of beige and brown, teal, cherry red and burnt orange, which you can incorporate with bed linen, throws, cushions and small accessories. For a contemporary Nordic style, stick to a palette of white and warm neutrals paired with plenty of fresh green foliage.
---
Featured inside Reclaim 78 – Order your copy here
Words: Lindsey Harrad