When photographer and blogger Janice Issitt (janiceissittlifestyle.com) isn't behind her camera she will probably be found with a sander or paintbrush in hand. Currently putting her mark on a 500-year-old cottage in Suffolk, she loves to find the history behind everything, whether it's buildings, family, antiques, traditions or food.
WORDS AND IMAGES JANICE ISSITT
Mrs Beeton's family cookery
Like many people, I always assumed that our most established and well known writer of cookery books, Mrs Beeton, was a grey-haired old lady who spent her whole life writing recipes and instructions on how to run a household. But actually she began writing aged just 21, and died seven years later of an infection.
Isabella Mary Beeton was born in 1836 and in her short life she wrote several books, published by her husband, most notably Mrs Beeton's Book of Household Management which sold 60,000 copies in the first year (1861) and continues to be revised and updated over 150 years later. It's still very easy to find original copies of her books and I located one from 1902 and another from 1907, the latter being the 'new edition' which had updated some of the terminology for ingredients. For instance, 'pounded sugar' became 'castor sugar'. These old editions are enormously interesting to read – of course some parts are outdated, but others surprisingly ahead of their time. I was particularly struck with the chapter on vegetarianism which suggests it was becoming acceptable even in 1902.
Mrs Beeton's enthusiasm for taking afternoon tea was on a par with the Queen, considering it a necessity when dinner was served late. So I've chosen two of her teatime recipes, shown here as printed in my 1907 edition of the book.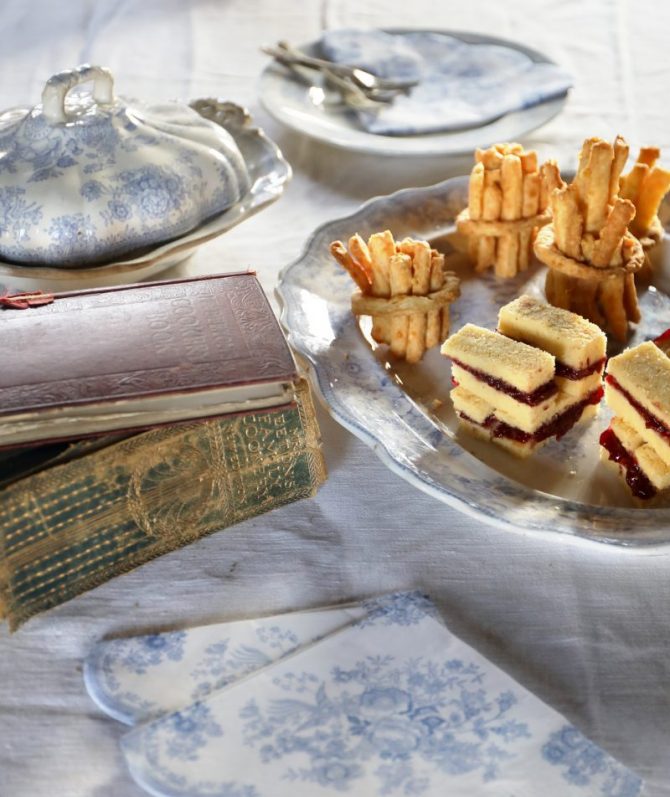 Victoria Sandwiches
There are no recipes in Mrs Beeton's cookbook for the large circular cake we know today, just for these fingers of jam-filled sponge, and absolutely no suggestions for including a cream filling. I wanted to follow the recipe exactly and without the use of electrical appliances, but I'm afraid my sponge wouldn't have passed the Bake Off judges' seal of approval! Perhaps it was because I used plain flour (as it didn't say otherwise) whilst most recipes today use self-raising, and maybe my whisking was not that of a cook from 1860.
4oz castor sugar
3 eggs
2oz butter
6oz flour
1 teaspoonful of baking powder
a little milk, jam, salt
Stir the sugar and yolks of eggs together until thick and creamy, then add the butter melted. Pass the flour, baking powder and a good pinch of salt through a sieve, stir it lightly into the rest of the ingredients and add milk by degrees until the mixture drops readily from the spoon.
Now whisk the whites of eggs stiffly, stir them in as lightly as possible and pour the preparation into a well buttered Yorkshire pudding tin. Bake in a moderately hot oven for about 20 minutes, let it cool, split in halves, spread thickly with jam, replace the parts and press lightly together.
Cut them in groups of 3, letting the layers cross each other, sprinkle liberally with castor sugar and serve.
Time from 1¼ to 1½ hours, average cost 9d. Sufficient for one large dish.
To Serve
My Victorian afternoon tea is served on what was the most popular design for china at the time, the Asiatic Pheasant. I love this pattern which is still available from its original makers – Burleigh in Stoke on Trent. This blue and white, traditional design dates back to somewhere between 1830 and 1862, first made at the Swan Bank Pottery in Tunstall and soon adopted by other potteries such as Burleigh. You can buy new direct from burleigh.co.uk, or find antique pieces on Etsy.
Cheese Straws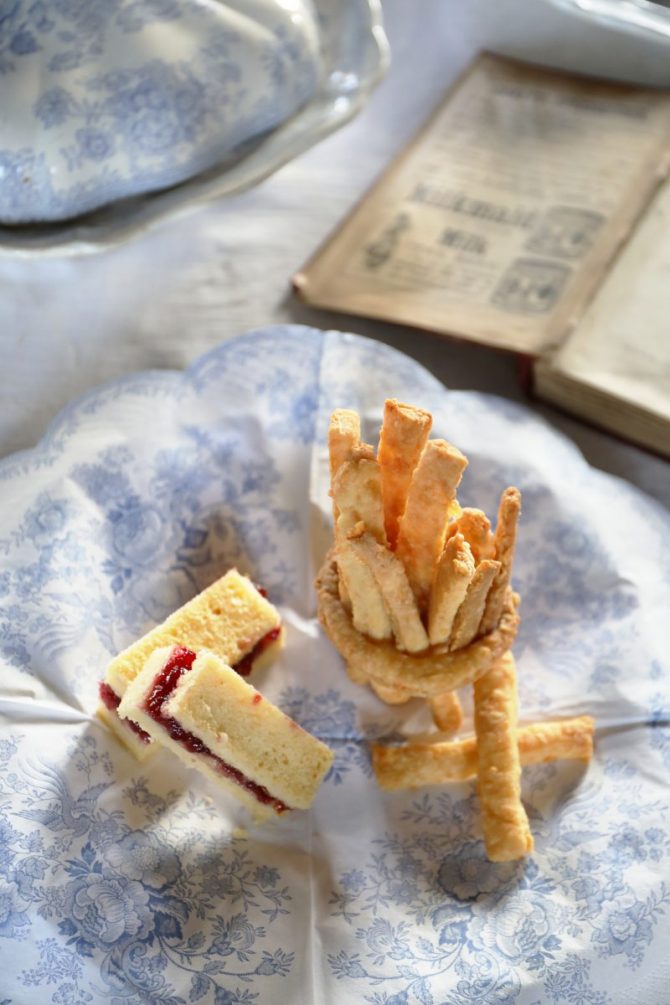 2oz Parmesan cheese
1oz Cheshire or Cheddar cheese
2½oz flour
2oz butter
salt
cayenne pepper
the yolk of 1 egg
Grate the cheese, mix it with the flour, rub in the butter and season with salt and cayenne pepper. Now form into a stiff paste with the yolk of egg and cold water, adding the latter gradually until the desired consistency is obtained.
Roll out thinly, cut into strips about 4 inches long and about ⅛ inch wide, and from the trimmings stamp out some rings about 1¼ inches in diameter.
Bake in a moderate oven until crisp, fill each ring with straws and arrange them neatly on a dish covered with a napkin or dish paper.
Time ½ an hour. Average cost 9d. Sufficient for 6 or 7 persons. Seasonable at any time.