Our October issue celebrates the joy of bringing art into your home, and here we share interview extracts with three of our favourite artists, who use different media but share a passion for storytelling through their work.
******************************************
Su Blackwell
Fairy tales spring to life in Su Blackwell's delicate sculptures made from vintage books
Words by Andreina Cordani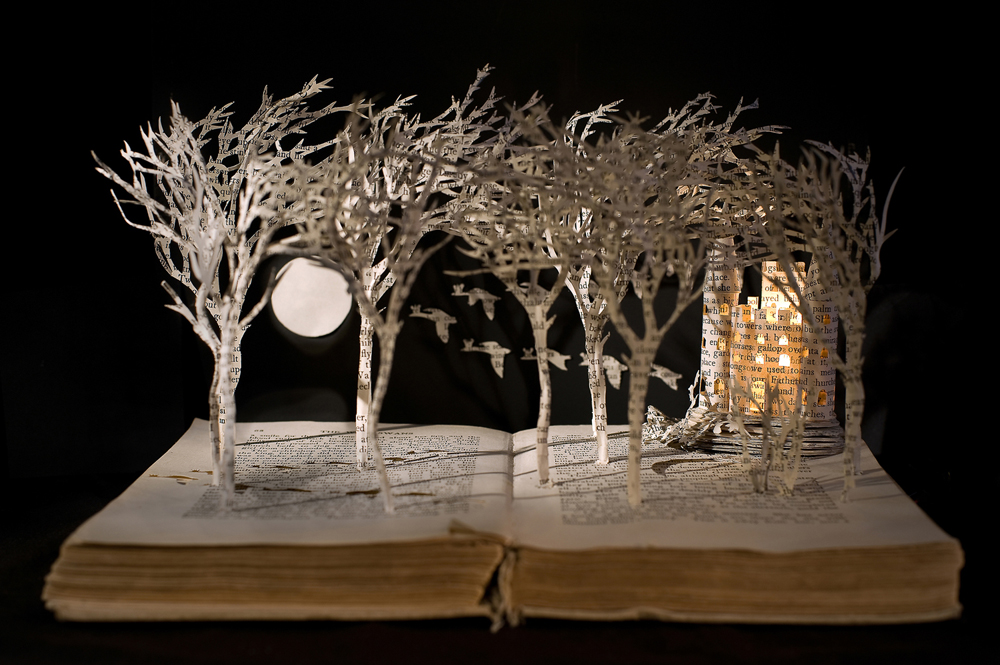 A dark forest, a lost girl, tangled trees and twisted castle towers… Su Blackwell's sculptures take the otherworldly landscape of fairy tales and makes them three-dimensional – adding an extra level of magic to our well-loved stories. Anyone who spent their childhood lost in stories of princesses, fairies and enchanted swans will respond to her whimsical but sometimes dark and unnerving pieces.
Tell us about your first book sculpture.
When I was in Thailand I'd bought a second-hand copy of Graham Greene's The Quiet American which had Thai inscriptions in the margins. Thai writing has this beautiful, pictorial quality and it added another dimension to the book. Later on a friend told me about a Chinese legend, in which the spirits of a pair of doomed lovers come flying out of their graves in the shape of butterflies. I had an idea to combine the two and started cutting moths out of each page one by one, going right through the book. I then used fishing line to make it look as though the moths were flying out of the book. It's still my favourite piece; I have a real connection with it.
So the fairy tale and book combination was there right from the beginning?
I didn't work with books for about another year. But then I relocated up to the Scottish borders and there was an opportunity to enter a local exhibition – the theme was Alice in Wonderland. I went to pick up a copy from my local second-hand bookshop in Carlisle which was a lovely place – six storeys high and full of nooks and crannies where you can hide away and read. One floor was filled with children's books and I discovered all these old books I'd read as a child and forgotten as an adult, although they must have still been there in my psyche. I picked up an Alice with John Tenniel's illustrations and re-read it.
What was it like, rediscovering the story as an adult?
Actually, a bit of a disappointment! As a child I never questioned it – I just went with Alice on her adventures – but as a 26-year-old it felt nonsensical, and she's not very well treated, is she? But it was interesting in a different way: there are these levels you're not aware of when you're a child. I cut out an image of Alice and, taking Tenniel's images as inspiration, I created a scene of the Mad Hatter's tea party around her, but without any of the other characters present, so she's alone, bewildered within the surroundings of the book.
After that I went back to look at other stories I'd forgotten – the Brothers Grimm, Hans Christian Andersen – and I felt a real inspiration. I made about 12 sculptures in all and had my first show in London at the Origins Art Festival in 2006. All the pieces sold! Since then it's a journey I've been going on.
Is it more powerful somehow to use second-hand books rather than new ones?
Yes, definitely. With older books you can get more of a sense of history across. Old paper is thicker, more fibrous and textured, and it gives you more stability when you're making things from it. It's also quite dog-eared, stained and wellthumbed which adds another level to the story. Some of the books I've worked with have been over 100 years old and passed down through the generations. The idea of children growing up with them adds meaning.
sublackwell.co.uk; Instagram sublackwellstudio
To read the full interview printed in issue 45 buy the digital issue here, or buy the print back issue via our website here.
******************************************
Michelle Holmes
Michelle Holmes takes mismatched swatches of found fabric to create characters and worlds that you long to escape into.
Words by Andreina Cordani, images © Steve Bond Images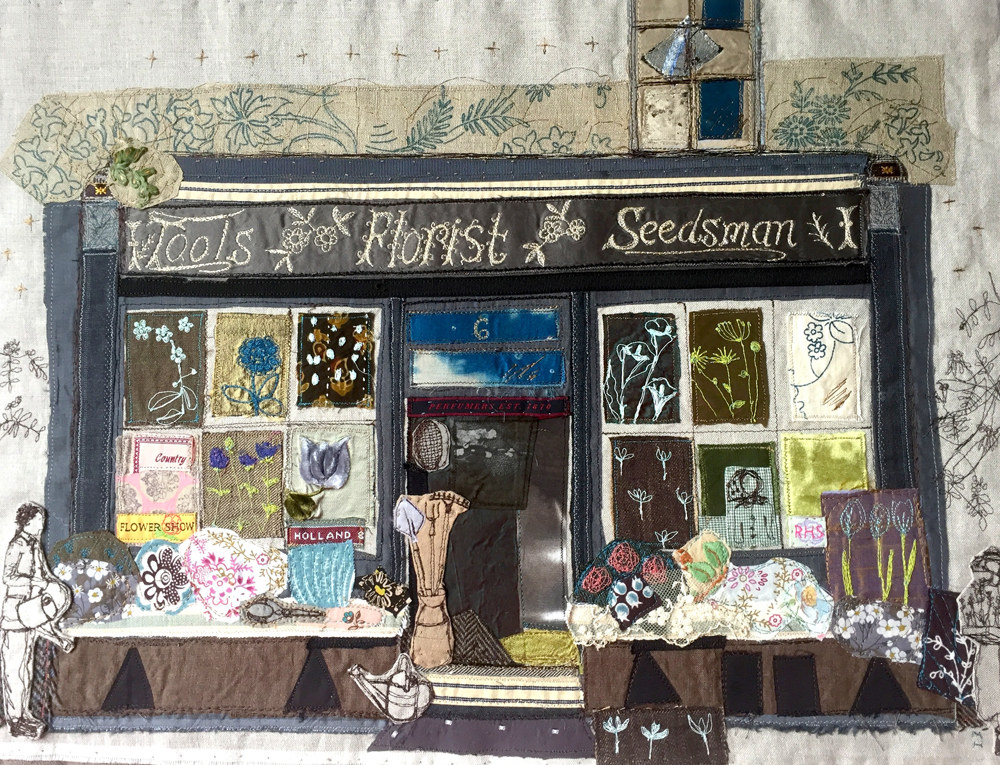 Some people tell their stories with words or pictures, but Michelle Holmes weaves hers with thread. She invites you to peek through the door of a cosy, old- fashioned haberdashery, gaze past city chimney pots at a fantastical moon or take tea with Betty, the elegant ladylike figure who often pops up in her machine- embroidered sketches. Working in a rural studio on the Leicestershire/Derbyshire border, she is inspired by the natural and human world alike, creating work to lose yourself in. And it's all done with odds and ends of vintage fabrics.
Where does your inspiration come from?
I've always stitched. My grandma stitched and my mum used to make clothes for me – she'd do things like turn my old nighties into party dresses by adding things to them, which I was really embarrassed about at the time! But I only got into machine embroidery in my final year studying textiles at Loughborough University, as a way of telling stories. That's when I started collecting vintage fabric, which was considered quite old-fashioned back then.
Now I get ideas from anywhere. I was in East Sussex one evening and saw this little flower hut. Peering in, it looked like it was from the 1930s or something. I took a photo and a piece just grew out of that. My natural-world pieces are influenced by the rural valley where I live. At wintertime the skies are dark and the moon looks like it's right at the top of the field, so the moon pieces have been inspired by that.
Where do you source your materials?
People give me unwanted garments. Sometimes a friend will be wearing something and I'll ask if I can have it when they've finished with it. A few years ago a second-generation tailor in Leicester gave me all the offcuts he and his father had saved, from all these high-end bespoke suits. They've been invaluable. A friend also got me some amazing fabrics from a theatrical wardrobe sale in Stratford; I keep wondering what play each piece appeared in!
I regularly trawl vintage shops looking for silk ties. The backs of the fabric are often jacquard weave and really beautiful when you undo them. One of my textile heroes, Janet Bolton, once advised me to always look at the reverse of fabrics – you don't have to use the 'right side'.
How do you go about making a piece?
I have a strange catalogue in my head of all the fabrics I have and when an idea comes I can spend ages searching for a piece – that one piece I know I have somewhere! Then I make a box for the project. A local deli saves their wooden cheese boxes for me; they're really nice and just right for keeping fragments inside. Even after something's been made the offcuts go back into the box to remind me of that piece. Most of my work is free-motion stitching on a Bernina sewing machine – I think my newest one is about 30 years old – but there are some hand-stitch elements too.
To read the full interview printed in issue 51 buy the digital issue here, or buy the print back issue via our website here.
******************************************
Saint Floral
Romantic floral storyteller Hannah Antmann – aka Saint Floral – draws inspiration from art, history, fashion, period architecture and antique objet d'art and textiles to create modern floral scenes reminiscent of the Dutch Masters
Words by Alice Robertson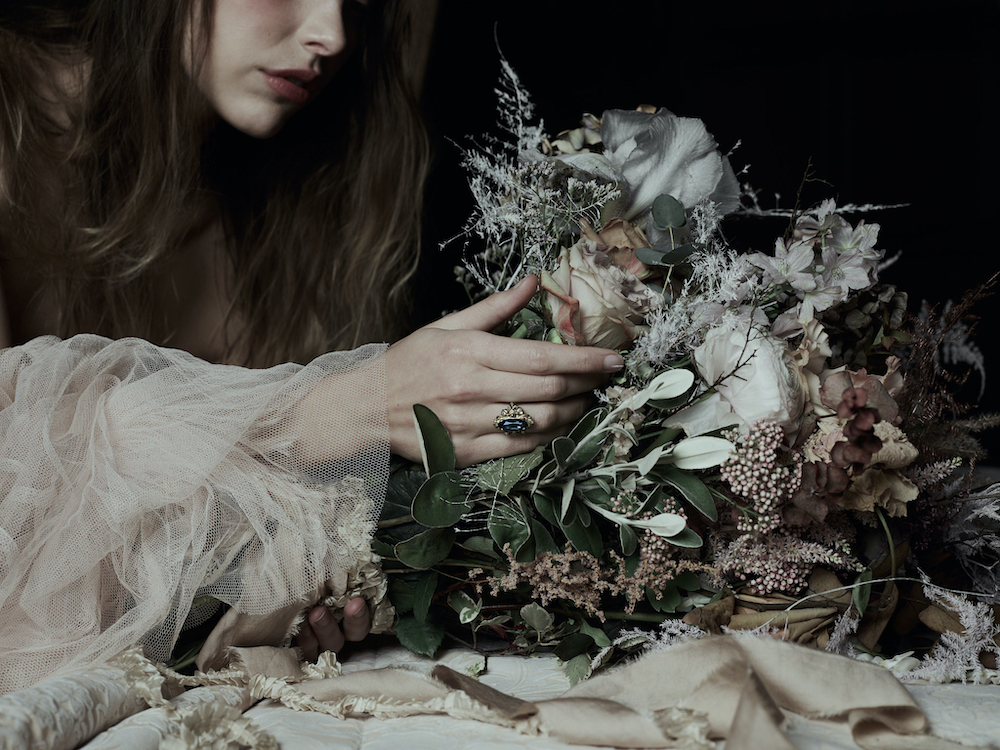 With a mother who is an antique dealer, interior designer and painter, Hannah Antmann grew up surrounded by history and culture. Hers was a Georgian home filled with antiquities and a walled garden where Hannah would lose herself for hours in the magic of flowers and their evocative scent. Art and flowers were a constant love throughout her education, and Hannah created close-up studies capturing floral forms and poetic petals, and was magnetised by the Impressionists, Pre-Raphaelites and Dutch Masters for their moody floral depictions and the adumbral power of chiaroscuro.
Later studying floristry, Hannah gained a practical insight into a world which married perfectly with her love of whimsical storytelling, romance, antique and vintage objet d'art, lace, ribbons, fashion and period architecture. It became apparent that her early floral love affair had sparked an appetite to tell stories through the medium of flowers, alongside dark, moody photography. Out of obsession and curiosity, Saint Floral was born as the creative outlet for Hannah, whose work is nothing short of art.
How did your childhood interest in flowers and scent begin?
From a tender age I've been obsessed with the language of flowers, romantically speaking, in both their singular and collaborative beauty, their effervescently fresh to gloriously faded hues, hypnotic scents and symbolism. Their wonderment and story celebrate life and love and transcend moods in any place or space with an instant sight or smell.
The Berkshire home I grew up in was full of story and sentiment; I have memories of my mother's Paloma Picasso perfume lingering against antique walnut and old tapestry. With an acute sense of smell, which had me wondering if I might pursue a career as a perfumer, I found that scent in particular provoked the storyteller in me. Coupled with the visual art of floristry, I found I could create rich narratives which went beyond the realms of function and onto something with a more art-like quality.
What influences led to the development of your floral and photographic style?
Flowers, fragrance, art and fashion – past and present – largely inspire my work. I'm a huge fan of storytellers in these fields, those offering a dance of fairy tale and melancholy, whimsy and gothic.
The work of Impressionists and Pre-Raphaelites such as Morisot and Millais, and Dutch Masters like Marseus have had a huge influence on my composition, whilst fellow dark artists and photographers Tim Walker and Laura Makabresku never fail to inspire. Photography makes up a part of my creativity too, something which led me to dig out my late father's old OM2 SLR camera and start capturing my bouquets in their fresh to faded states. This was perhaps the most pivotal moment in identifying my floral style as I really started to channel chiaroscuro concepts, embracing the dark and delicate.
Fashion designers Alexander McQueen, Dior and Valentino are endless inspiration for their dark florals and delicate intricacies through rich brocade, lacework, velvets and silks.
Saintfloral.co.uk; Instagram @saintfloral
To read the full interview printed in issue 48 buy the digital issue here, or buy the print back issue via our website here.