A current trend that I'm seeing in my studio is the demand for furniture that features a lot of curves and arches. Rather like the colourblocking technique I mentioned last month, there's no particular reason for styles to come into fashion – but I like it when they do. Spotting the next vintage trend is always exciting but especially so this time, for it has allowed me to work on a type of chair that I have not done in the past: Utility furniture.
For me, part of the enjoyment I get from working on a particular project is its story. I always say that chairs have memories, and while it's always fascinating to work on larger items such as a sideboard, nothing quite has the same emotion or story as a chair that has been sat in. It's always great if I know the story behind the chair, and when I don't, while I'm working on reupholstering the item, I find myself daydreaming and making one up!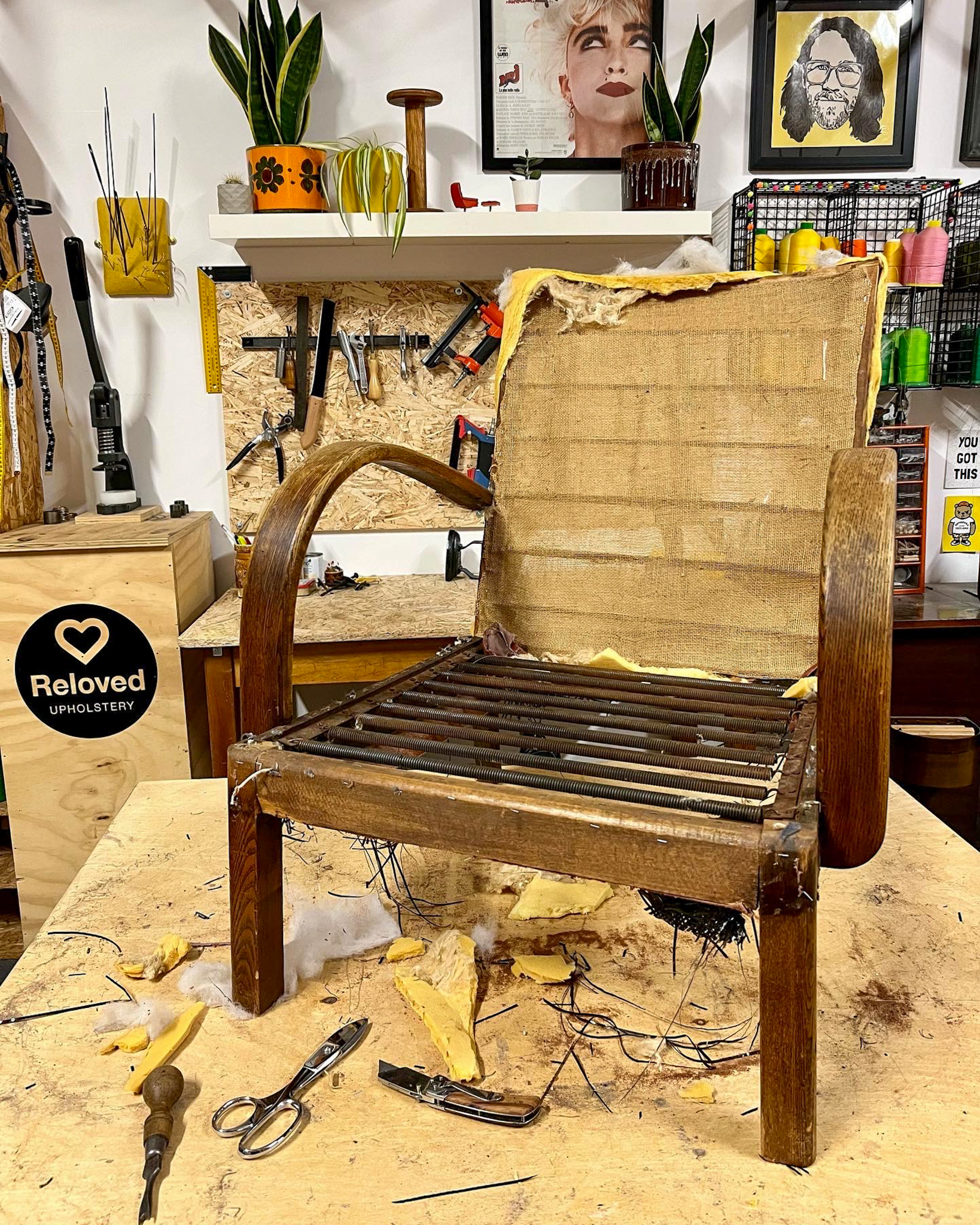 Fortunately, I knew the stories behind the latest chairs to leave the Reloved Studio – two identical ones from the 1940s in the Utility furniture range. A bit of background: from 1942, furniture was produced under a government scheme set up to cope with the rationing of raw materials due to World War II. There was a lack of timber but a huge demand for furniture, as people looked to replace items destroyed by the Blitz. As a result, sales were limited to newlyweds and those who had been bombed, with buyers requiring special permits to make their purchases.
The furniture itself was produced by highly skilled workers and, judging by the quality I've seen since reupholstering the chairs, they were certainly built to last. The Utility Furniture Scheme continued into the post-war years and was sold via a catalogue. But eventually rationing ended in 1952, so the furniture was only made for a ten-year period. But during that time a wide range of pieces was produced, some influenced by European designs.
The two Utility chairs that have just left me are such examples. Both were purchased in 1947 by newlyweds Margaret and Kenneth Parkin and they have now been handed down, with one going to their daughter and the other to their grandson, which I have reupholstered in very different styles.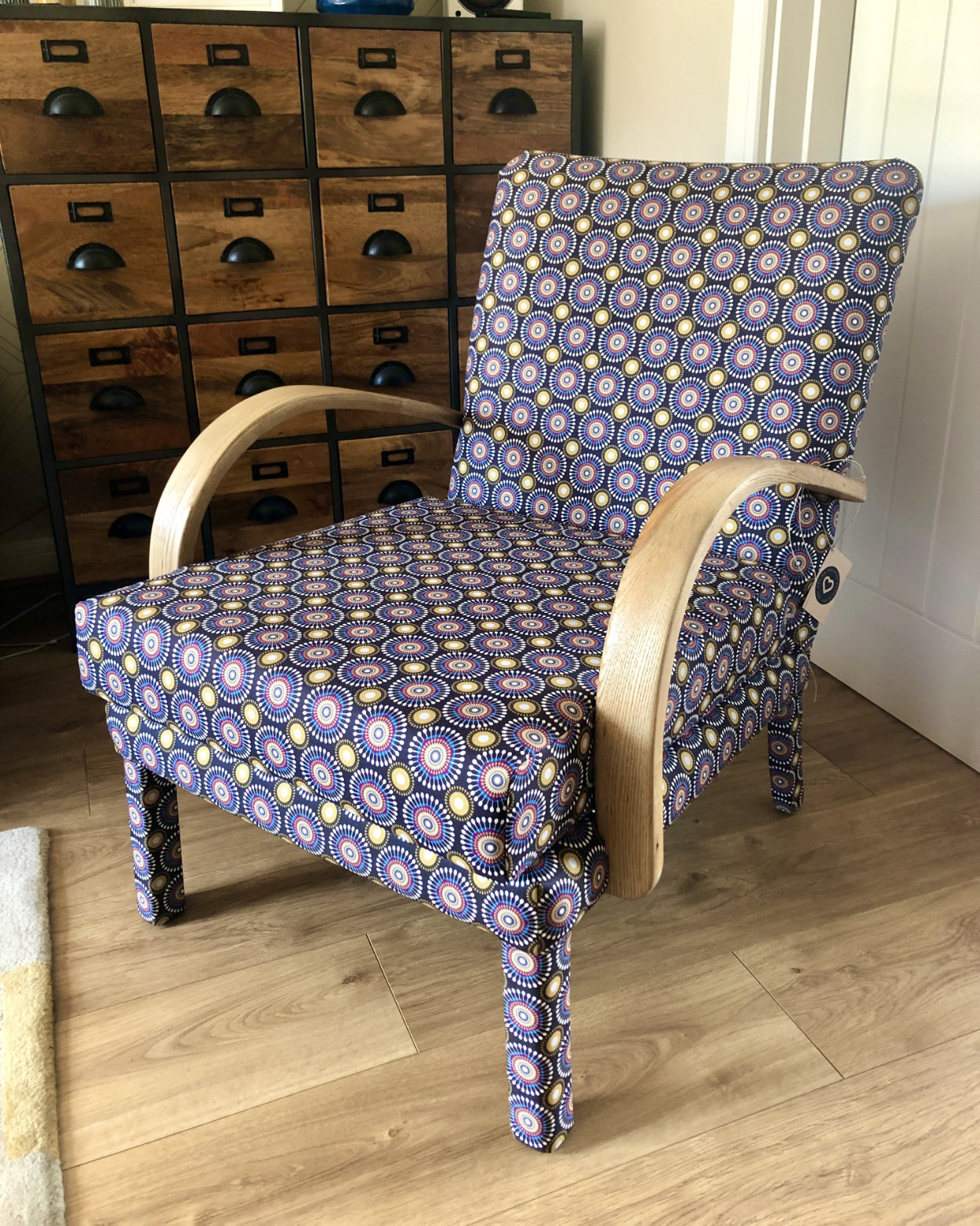 The chair that now resides in pride of place in their daughter's house was recovered in a wonderful Martini-glass-inspired fabric from Divine Savages, which worked so well with the curves of the chair and give a nod to the deco design. Perhaps the most unusual aspect, though, is the 'chair trousers' I made and there is a good reason they are there. When I stripped back the legs and removed all the varnish, I could see the legs looked rather odd. As a result of the timber rationing, it was a case of using what was available, so when the colour was removed, I could see that the wood types for the legs were mismatched; I didn't want to re-stain them, so I decided to cover the legs in the fabric, making them look very unique.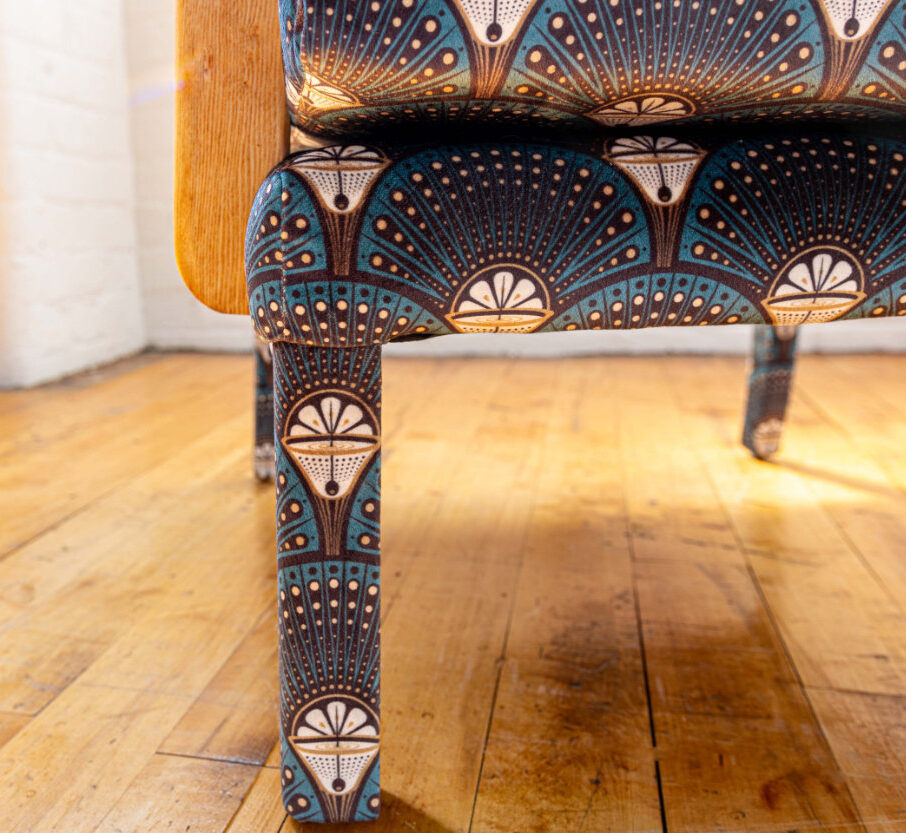 For the second chair, my client opted for a more modern design with the fabric made from recycled plastic bottles. I love using upcycled materials, and in this instance it was particularly fitting as my client described his gran as being 'a bit frugal', so it was nice to think that she'd approve of the new fabric!
I'm so pleased with how both chairs turned out, and to give this Utility furniture another function.
Article by Simion Hawtin-Smith and featured in Reclaim issue 73 – Available to buy here