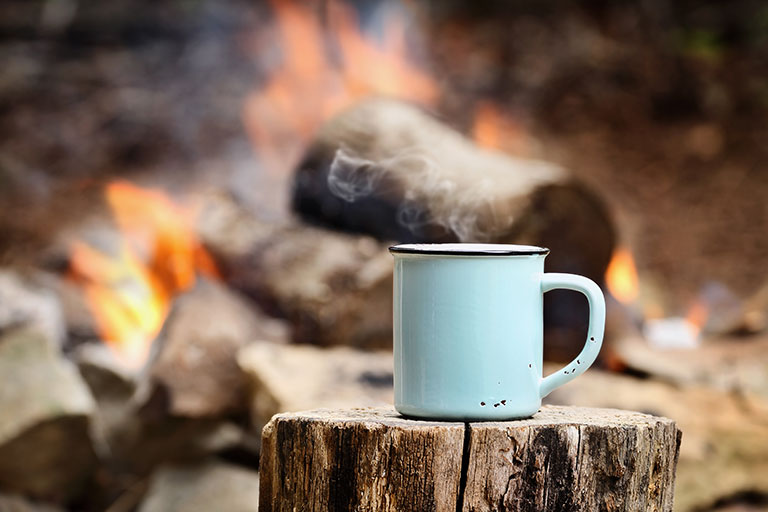 As pressure mounts on the coffee shop sector to clean up its act, Andreina Cordani discovers a company that's chipping away at the mountains of waste it creates.
Coffee. We love it. As a nation we guzzle 55 million cups a year. It wakes us up in the mornings, it fuels our late nights and the aroma of a fresh brew will even sell your house. But just recently we've started asking ourselves what the cost is to the planet.
In the UK we get through seven million disposable coffee cups every day. As for the coffee grounds themselves – we throw out around 500,000 tons of them per annum. Not to mention the food miles and energy consumption it takes to get the beans to us in the first place.
As public awareness of the environmental cost rises, it's hard to sip on a latte without feeling a little bit uneasy – but how could we make our coffee shop addiction less impactful on the environment?
This was the problem facing architecture student Arthur Kay back in 2013 when he was given the assignment of designing a sustainable coffee shop. As he looked into the concept, he realised that coffee has a lot of energy in it – even after we've taken our caffeine hit. He discovered there was a process for turning waste coffee grounds into biofuel – and that nobody was doing it on a large scale.
Fired up by the idea, Arthur raised money through private investment to set up a recycling plant, working with coffee shops and waste management companies to collect old grounds. Initially his company, Bio-Bean, made pellets which burn in industrial-sized biomass boilers, but it has since begun making coffee logs for domestic wood burning stoves (we're reliably informed that the coffee smell's minimal to non-existent). It even produces biofuel to power several London buses.
It's all part of the circular economy: instead of resources travelling in one direction from producer to consumer then to waste, the waste then becomes a product again so the whole process travels full circle. 'We were founded on the principle that there's no such thing as waste, just resources in the wrong place,' says Bio-Bean CEO Chris Harrison. 'The circular economy is all about extracting the maximum value from a material at every point of its life cycle, including after it has been discarded as waste. We give coffee grounds that would otherwise end up in landfill a second life.'
Five years after its beginnings as a student's design project, Bio-Bean employs 35 people and has a huge processing plant in Alconbury Weald, Cambridgeshire. Chris, whose original background was in conventional power, came on board enthusiastically. 'I wanted to move away from the large corporate environment, where meaningful positive impact is driven by financial incentives rather than because it's just a great thing to do,' he says. 'Here we can make a positive difference without waiting for others to show us the way.'
Of course coffee power isn't a perfect solution – there are no magic bullets when it comes to saving the planet. Biofuel is typically a blend of around 20 per cent biodiesel blended with conventional petroleum diesel – so the buses aren't purely powered by plants. And they do still produce emissions. However research carried out by the Greater London Authority found 15 per cent less CO2 in biodiesel emissions – a significant cut when the air quality in our cities is at crisis point. Coffee logs and pellets also give off emissions, but they burn efficiently, and Chris says that they are still better than simply trashing the grounds. 'We had an independent life cycle analysis, looking at the whole journey for the coffee waste and, even taking emissions into account, we still produce up to 90 per cent less greenhouse gas than sending grounds to landfill or disposal by anaerobic digestion.'
He also says their R&D department is constantly working on ways to cut that margin even further. 'Our coffee oil extracts will soon be used instead of harmful chemicals across a range of different industries, reducing reliance on fossil fuels and virgin resources.' There are lots of different applications for coffee waste – from flavourings to fragrances.
The best part of it is that the Bio-Bean story offers inspiration to others looking to reuse waste. It's called urban mining – collecting resources which would otherwise be thrown away and giving them another purpose.It's happening in other industries too – Snact makes dried fruit snacks out of market surplus fruit, Toast Ale makes beer out of those end bits of bread we never eat. As Chris points out: 'When you start to see waste differently there are countless business opportunities to be explored across every sector.'
See more info at bio-bean.com or buy coffee logs at coffee-logs.co.uk
Cool beans
Other ways our caffeine buzz can become more sustainable.
Huskee Cup
Coffee starts out life as a berry – the fruit and husk are removed to expose the beans and the husks themselves are usually thrown out, producing 1.3m tons of waste husk per year. Australian company Huskee Cup has developed a way of combining the husks with an organic resin to make ceramic – producing a range of coffee cups. They're simple, elegant, hard wearing and even dishwasher safe. What could be better than drinking your morning coffee out of… well, coffee?
The product is still at kickstarter, stage but you can find out more by searching Huskee.
Simply Cups
The polyethelene lining in paper coffee cups makes recycling tricky, but Simply Cups uses a specialist pulping process which separates the cups' lining, which then floats to the top and is skimmed off. The pulp is then recycled into office supplies, cafe and barware or promotional items. Visit simplycups.co.uk
Biodegradable coffee capsules
Coffee pods for Nespresso machines (or similar) are usually made of mixed plastics and aluminium which makes them difficult to recycle but companies are starting to work on this. Halo makes pods (halo.coffee) out of bamboo and paper pulp which break down after use. Dualit has also started making a biodegradable option. See dualit.com.