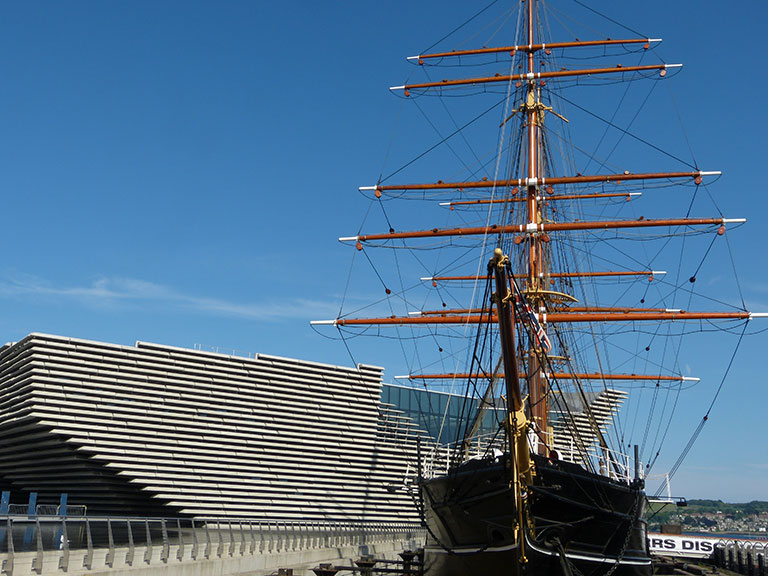 A town famous for heroic explorers and comic-book classics is now the home of Scottish design heritage.
Dundee has been a hotbed of industriousness and creativity since its early prominence as a 12th-century port. This is a town happy to reclaim the old as well as fashion the new – a place that today combines being a global gaming powerhouse (birthplace of iconic games like Grand Theft Auto and Lemmings) with repurposing 19th-century jute factories as art studios and innovative museums. (see Must-see).
And now the UK's only UNESCO City of Design – a title shared with the likes of Berlin and Helsinki – has become home to a gallery set to have as transformative an impact as the Guggenheim did on Bilbao. Designed by Japanese architect Kengo Kuma, the rock-shard facade of the world's first V&A design gallery outside London takes inspiration from the dramatic sea-cliffs of Scotland's east coast. Its jutting prow echoes too the sailing ship Discovery moored alongside, launched in Dundee back in 1901 to bear explorers Ernest Shackleton and Robert Falcon Scott on their epic Antarctic explorations. The new museum celebrates Scottish design in glorious diversity. There's Charles Rennie Mackintosh's magnificent Oak Room, unseen by the public for five decades since being salvaged from a venerable Caledonian tearoom; contemporary couture from Holly Fulton mingling with 18th-century garters worn by Jacobite-supporting women; and design movements like the Glasgow Style are explored, alongside an array of Scottish inventions. Who knew a Scot invented the kaleidoscope?
The green expanse of Slessor Gardens links the waterfront to a city centre where historic sandstone edifices mingle with new restaurants, bars and sleek hotels icing the cake of an ongoing £1billion regeneration, transforming miles of waterfront into a coastal playground ending in the old-fashioned seaside suburb of Broughty Ferry, where a 15th-century castle stands guard over a tiny harbour from where you can take a boat trip to watch the local dolphins.
In the city centre, Albert Square pulls together three classic Dundee sights. The 16th-century Howff cemetery is a green oasis where gravestones sport striking guild markings, while the lovely red-stoned Courier Building is home to publishers DC Thomson, whose glorious vintage comic book characters like Desperate Dan and the Bash Street Kids delighted generations of kids and adults alike. This witty graphic heritage is being celebrated in an exhibition (until October 21) at the lovely 19th-century McManus museum, as well as fabulous bronze statues around the centre. Dundee's bohemian heart lies along Nethergate and Perth Road, plus Westport a stone's throw away up South Tay Street from Dundee Contemporary Arts – the latter a great place for dinner or drinks as well as cultural pleasures. The well-regarded Dundee Rep offers theatre and dance hereabouts too.
Groucho's is a vinyl mecca where Alastair Brodie also sells vintage record players as part of his mission to convert the kids to stylus style: 'I tell them they could spend £100 and get a modern record player that sounds tinny – or buy an old one that's a wee bit tatty but has a really rich sound.' I admire a vintage poster for a 1976 Dundee appearance by The Sex Pistols, and share a laugh at Alastair's Bay City Rollers 'amnesty box' for unwanted teenybop discs. Just over the road, Cartocon (short for Cartel of Connoisseurs) touts hip modern threads from Danish, Japanese and US designers which jostle with the shop's own upcycled gear. 'We use old German military surplus to promote different themes,' explains designer Shafeeq Seale. 'The latest collection looks at so-called "disorders" like autism – but rather than seeing them as a disorder we treat them more like a superpower.'
The gorgeous medieval university town of St Andrews provides a perfect historic complement to Dundee just 30 minutes away by bus, set by the vast golden sweep of West Beach made famous as a seaside running spot in the Oscar-winning Chariots of Fire. As home to one of the world's elite universities (yes, yes, where Kate snared Wills) plus the planet's most famous golf course, St Andrews oozes a cosmopolitan upmarket vibe alongside its gorgeous historic fabric featuring lovely old uni quadrangles and the atmospheric seaside ruins of its medieval cathedral and castle. Chi-chi shops and refuelling stops cluster along South Street, and there's plenty here for a half-day side trip – with lunch perhaps at the excellent Seafood Ristorante overlooking the beach.
Back in Dundee, I get a blast of vintage evening style on the quirkily named Couttie's Wynd, a little alley running from the Malmaison hotel to Nethergate, where a tiny light above an unmarked door ushers me down stairs lined with vintage mannequins and fashion posters into the 1920s world of the wonderful Draffens speakeasy. A nattily attired barkeep from New Orleans rustles me up a delicious breakfast Martini featuring egg white and Dundee's famed local marmalade, while the bar's Jazz Age sounds make me briefly consider breaking into a jive. But I make do instead with a quiet toast to Dundee's stirring 21st-century reinvention.
The essentials
Cartocon 129 Nethergate; cartocon.co.uk
Draffens Couttie's Wynd; see Facebook
Dundee Contemporary Arts (DCA) 152 Nethergate; dca.org.uk
Dundee Rep Tay Square; dundeerep.co.uk
Groucho's 132 Nethergate; grouchos.co.uk
The McManus Albert Square; themcmanus-dundee.gov.uk
Eat
Gallery 48
This airy white-walled Westport space combines the pared-back aesthetic of a contemporary art gallery with succulent tapas, from the classics to less familiar options like tuna belly, olive tapenade and artichoke, or Catalan spinach with pine nuts and raisins.
• 48 West Port; gallery48.co.uk
Brassica
A stone's throw from the V&A across Slessor Gardens, this newly opened brasserie brings 'laid-back luxury' and all-day dining to the Dundee waterfront. The spacious interior includes Scandi-themed pale wood areas plus a living wall, while innovative small plates celebrate local produce in dishes like Arbroath smokie bon-bons or halibut with oxtail.
• 4–5 Shore Terrace; brassicadundee.com
Stay
Malmaison Dundee
This 91-room outpost of the luxury boutique hotel chain boasts a great central location just a hop from the V&A, plus some of the city's best eating and drinking spots. Lush velvets mix with contemporary lighting, while Dundee's comic-book heritage is celebrated by visual nods to legendary Beano characters.
• 44 Whitehall Crescent; malmaison.com
Taypark House
This turreted 1860s Scots Baronial mansion augments historic charm with panoramic Tay views from mature gardens at the far end of Perth Road. Classic touches meet modern minimal in the décor – splashes of contemporary tartan here, muted greys there. The bar has a great selection of Scottish gins too.
• 484 Perth Road; tayparkhouse.co.uk
Travel
Loganair (loganair.co.uk) fly direct from London Stansted to Dundee, with a journey time of 90 minutes. Trains provide regular direct services to Edinburgh (75 minutes), Aberdeen (75 minutes) and Glasgow (90 minutes), as well as various English cities. By road, Dundee is around 65 miles north of Edinburgh.
Must-see
V&A DUNDEE
This architecturally pioneering gallery puts Dundee in the global cultural spotlight, with beautifully curated permanent collections exploring Scotland's amazing design heritage. The largest temporary exhibition space in Scotland will also host major touring shows, beginning with Ocean Liners: Speed and Style, exploring the design wonders associated with these great floating palaces. General entry is free, with charges for special exhibitions.
• Riverside Drive; vandadundee.org
VERDANT WORKS
Carved from a former jute factory, this distinctive museum spins the tale of rich and poor in Dundee during its 19th-century heyday when, as the jute capital of the world, this ancient raw fibre poured into the city from the Indian subcontinent to be woven into sacks and textiles. The shop also stocks the museum's own award-winning gin.
• West Henderson's Wynd; verdantworks.com
Tips for the first-time visitor
If you're visiting Verdant Works, you can save several pounds on another of Dundee's main attractions by buying a joint ticket covering RRS Discovery. Even better, the ticket gives you entry to both sites for a full year!
Specifically Vintage holds regular vintage markets at the Roseangle Kitchen Cafe on Perth Road, with free entry. Upcoming 2018 dates are 13 October and 1 December (see Facebook).
Dundee Ministry of Crafts organises regular showcases of contemporary local design work at The Steeple Church, with upcoming events on 29 September, 27 October, 17 November and 15 December (see Facebook).
DD Tours (ddtours.co.uk) offers various intriguing guided walks through the city, from general daytime tours highlighting architecture and art to more chilling and atmospheric night tours revealing Dundee's darker side, from witchcraft to crimes of passion.