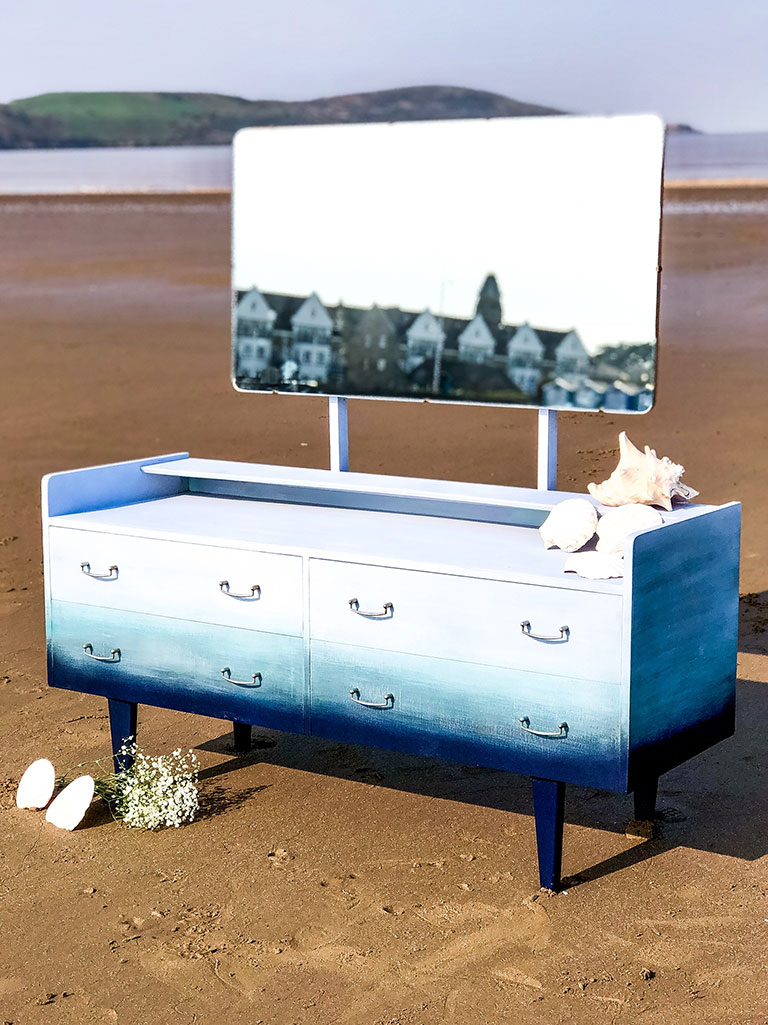 Ombré is a French word describing colours or tones that blend on a graduated basis from dark to light. It's having a moment in interiors and even on hairstyles, but has always been used as a foundation for art compositions: think sunsets, landscapes and the one from which I've drawn my inspiration, a stormy seascape. Vintage paintings of ships at sea have always been a slight obsession of mine.
I've gone for quite a rough blend by using some dry brushing at the end to give it a choppy sea look and have used a very extreme version of contrast, from dark navy through to baby blue. However, this technique could be used for a dreamy subtle look – it's just that I struggle with subtlety!
Choose your piece
If this is your first project, it's probably easier to find a piece of furniture with a flat surface, as that way you only need to blend in a straight line. But if you've got nooks and crannies it's not a problem, it just might take you a little longer to get the blends right. I've gone for a retro dressing table as I think ombré as a technique looks amazing on these pieces. Some of the veneer on it had chipped away, so I just fill these bits in with ready-made wood filler and smooth over with an old debit card. Take all the handles off and pop in a jar so you don't lose any. When the filler is dry, give the whole piece a light sanding.
Get your paints ready
Surely one of the most exciting things about starting a project is opening a new tin of paint. I love it, especially if it's a colour I've never used before. For the main body colour I go with Rust-Oleum Powder Blue chalk paint and then mix my own navy using Rust-Oleum Graphite with a dark blue acrylic, all bought from The Range. It may seem like I'm sponsored by Rust-Oleum but I swear I'm not – I just can't get over the range of specialist paints they carry at such good prices! The other essential items you'll need are a spray water bottle and a variety of brushes – I like to have three on the go.
The exciting bit
I start painting from the top and work down, making sure I give the piece good coverage. It's such a hot day, so I use the water spray as I go to give a smooth look, as the paint dries so fast. In-between coats, I give the dressing table a light sanding to keep brush strokes at bay. The powder blue covers the light veneer well and only needs two coats. Next, working from the bottom up, I paint the legs navy and carry this colour up for a couple of inches. One very important thing to remember is to open the drawers in-between drying the paint – otherwise they'll get stuck!
Now to blend
I mix some of the navy into the powder blue and, using a fresh brush, I add this new shade of colour through the middle of the dressing table, keeping the strokes horizontal and not forgetting to take it around the sides. Then, with the brush I'd been using for the powder blue, I blend from the top downwards, horizontally, all the while lightly spraying to keep the paint moving. Once I'm happy with that blend, I do the same with the navy-covered paintbrush, working from the bottom up and eventually meeting in the middle. Then I blur the edges using a kitchen sponge. Once all this is dry, I decide to add some green to the middle to spice it up a bit, so I go through the whole process again, finishing off with some dry brushing of the paler colour. Eventually I'm happy, so I give it all a light sanding and coat of water-based matt varnish. For the finale, I spray the handles silver and pop them back on. So there we have it, one stormy ombré dressing table that's just been swept up onto the beach…